Album Review – The Silver Scream by Ice Nine Kills (Fearless Records)
American metalcore and horror enthusiasts, Ice Nine Kills have released a whole album dedicated to some of their favourite horror movies and icons. This album is called The Silver Scream and it is pretty damn good.
With Halloween fast approaching, there seems no better time to release an album dedicated to classic horror movies. The Silver Scream is exactly that. Essentially a concept album containing 13 tracks dedicated to 13 movies the band members are fans of. Add a large dollop of metalcore heaviness, a sprinkling of creativity and a whole host of guests and you have the perfect soundtrack to any Halloween parties being thrown.
Ice Nine Kills, or INK, for short are well known for their love of horror. Where The Silver Scream focuses on movies, their 4th album, 2015's Every Trick in the Book was based around horror literature. It makes their 5th album seem a natural progression. For us here at GBHBL, we love horror in both film and book format. We also love heavy metal in almost all forms. Surely these albums are made for us.
Ice Nine Kills are from Boston, Massachusetts. Musically they are complicated to pin down to a specific genre though "officially" they are classified as metalcore. They also freely dabble in ska, punk, rock, hardcore, post metal and even symphonic metal. All of this is wrapped up in a large theatrical element which has led some fans to classify them as theatricore. A horrible word, up their with djent. Ice Nine Kills are a 3 piece (now) though have touring members on board for live shows. Forming in 2002, they have also had loads of member changes with only Spencer Charnas still in the band since their formation.
Spencer is the lead vocalist and is on keys. He is joined by Justin DeBlieck who is on the lead guitar and adds more vocals. Justin joined in 2009. Finally, Justin Morrow is on the rhythm guitar, bass and backing vocals having joined the band in 2009 as well. For The Silver Scream, Conor Sullivan was on drums though he has since left the band. As touring members, Patrick Galante is looking after drums and Ricky Armellino steps in on vocals and guitar duties.
On to the music then. The Silver Scream is 13 tracks and around 50 minutes of music and it pretty cool, though occasionally a little overly chaotic. It starts off with the Nightmare on Elm Street inspired, An American Nightmare. It makes use of a lot of sampling. Something that I would normally dislike but here it works adding context to the concepts and stories. The vocal style instantly stands out. With all members adding vocals you get a wide range of tones and strength. Clean singing, deathly growls, screams, shouts, it is all in here. There are crunchy, metalcore styled guitars mixed with backing keyboard synth. The chorus is melodic and really catchy and there is a neat little different version of the famous "one, two Freddy's coming for you" rhyme as well.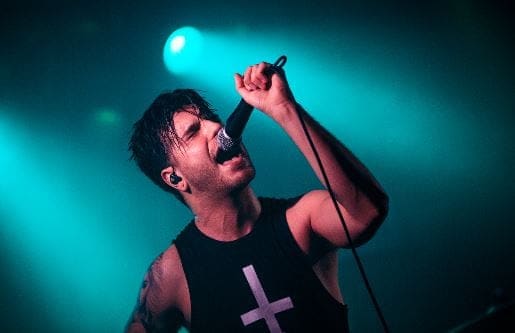 This heavy sound, with lots of distortion and sampling is the predominant sound on The Silver Scream. Other tracks like the Jason Voorhees, Friday the 13th, inspired Thank God it's Friday are similar containing impressive chorus' and compact riffing. As is the Michael Myers inspired Stabbing in the Dark. The latter also having some excellent vocal work to intro the song cleanly. There lots of different styles on offer in different songs though. The more ballad like A Grave Mistake, inspired by The Crow, is a great song with a bit of piano on show, a gentle intro that builds into power ballad singing and melodic guitars.
Another slower, pop punk ballad style comes with The Devil's Rejects inspired Freak Flag. It is another catchy song that hooks you in and will have you singing "Let your freak flags fly". Probably the closest to a full on ballad comes with Love Bites. A nod to An American Werewolf in London and featuring actress Chelsea Talmadge, of Stranger Things in a vocal duet on a really nice song.
Enjoy Your Slay is one of my favourites. The band's take on The Shining even sees director Stanley Kubrick's grandson, Sam Kubrick add guest vocals. There is a nice symphonic edge to this track and yet another rocking chorus. A couple more rocking tracks come in The Texas Chainsaw inspired Savages. There is a wicked rolling rhythm to this one, offering a bit more of a punk rock flavouring. Similar in style to The World in My Hands. This one is based on Edward Scissorhands and features guest vocals from Tony Lovato.
The album closes on a curve ball as the band move into ska territory for IT is The End, based on Stephen King's IT, of course. This track features Will Salazar of Fenix TX alongside members of Less Than Jake. There heavy moments, dark vocals and a catchy chorus while the brass instruments offer carnival style, fitting of their tribute to the world's scariest clown.
I have to admit I was a bit surprised by how much I like The Silver Scream. I shouldn't be really. Ice Nine Kills obviously have great taste in horror. The songs are clever, offering different perspectives on many of the films. There are great guests on board. Musically, there are some great riffs and cracking drum blasts. The different vocal styles on offer are really exciting. I don't know much about this band prior to this album but it is good enough to make me keen to check out their back catalogue.
There are faults, I guess. Musically, as an album it makes no sense and has no flow to it. It comes across more as 13 individual tracks rather than a complete album. A compilation of bonus songs, perhaps. That is minor though and doesn't affect the quality of the output at all. The only other issue I have is on some of the heavier songs. I was so surprised to see there are only 4 people in the band at the time of recording The Silver Scream. At time sit feels like there are 10 people on the go. That basically comes from all the sampled voices, snippets, synth and keys. Because of this, a few of the heavier tracks sound really busy and you struggle to pick out some of the individual instruments hidden in the layers.
Mostly though, while occasionally cheesy, I found this album to be immensely entertaining. Not just from the way of a gimmick either, which it kind of is. Musically it is really strong and the mad range of vocals on offer are great. The choruses are catchy and there is so much on offer in here, you can't possibly get bored. Great album with great 80s inspired cover art too.
[amazon_link asins='B07FVFQF3F,B07H47TBHH,B015EC6SWC,B00GV8B0PY,B002HEWJPQ,B07DJXQC64,B003UNKFQ8,B000JVS4W6,B071DZM26H' template='UseThisOne' store='g0e5b-21′ marketplace='UK' link_id='8fa82289-cc79-11e8-a251-0973064f13c9′]
The Silver Scream is out now on all the usual streaming services, like Apple Music and Spotify. You can grab a physical copy from the record label, here, or from the Amazon links above. Find out more about Ice Nine Kills at their website, on Facebook, Twitter and Instagram.
The Silver Scream by Ice Nine Kills (Fearless Records)
The Final Score -

9.5/10