Album Review – The Blind Leading the Blind by 1914 (Napalm Records)
Ukrainian post black metallers, 1914, released their sophomore album, The Blind Leading the Blind, in 2018 and again, now, through Napalm Records in 2019.
The clue is in the band name really in that all the music from 1914 comes from their obsession with World War I. More evidence of that comes in that the album was originally released purposely on the 11th of November at the 11th hour to land at the exact moment of the war ending 100 years prior. It has since been picked up by Napalm Records and released everywhere for 2019. As a band who sing around the war and German stormtroopers, you can imagine they have a lot of unsavoury accusations chucked at them though any simple research online shows you that founder and vocalist Ditmar Kumar in no way supports anything of the sort.
He is obsessed with the war from an historic perspective. There is even evidence of him working as an archaeologist successfully unearthing artefacts and remains from the period. He strives to tell stories from the period and to bring awareness to the conflict. 1914 do this using the power of music and metal hitting us hard with doom, sludge, post black metal and atmospheric black metal to tell stories from the war in a grim and frightening way. They aim to immerse the listeners into the war and have them understand the dark and bleak world soldiers found themselves operating in. They succeed massively.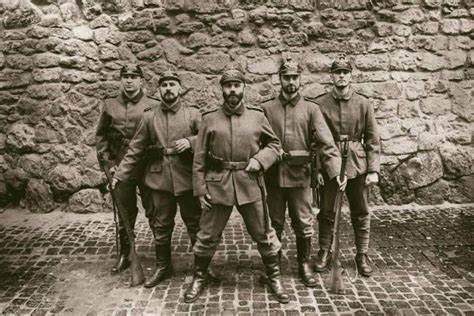 The Blind Leading The Blind is 11 songs long or around 59 minutes of music. It is one of the most powerful, thought provoking albums I have heard in a while. Being a concept album, you have to engage the listener. You have to make them feel they are there and this is one place 1914 really own it. With lots of sampling of old film snippets and war machines. Old songs and speeches, The Blind Leading The Blind has a real sense of authenticity to it. It starts off with a call to war in the fashion of the old jazzy songs like Keep the Home Fires Burning, transporting you back a century before exploding into fire and fury with Arrival. The Meuse-Argonne.
Known as the deadliest battle in US history, we learn about it through vicious, blackened death vocals and powerful black metal melody. Occasionally switching up do a doom sound it is a show of force from the band that certainly grabs your attention. A7v Mephisto starts of with the impending arrival of a tank, rolling towards us before, with the force of that same tank we get walloped by a crunch of heavily distorted, slowed down doom guitars. The drums are steadier with a real stomp to them and the melodic lead guitars drip with emotion. The vocals are layered and switch in tone a bit as the track plays with a riff that is basically a single smash of a guitar chord but loaded with distortion and feedback. Amazing song.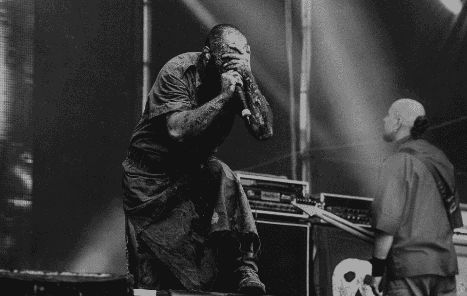 Other songs like High Wood. 75 Acres of Hell lays the black metal on thick. It builds with backing samples of a messy battle before adding drawn out sinister leads. Vicious vocals and blasting drums build up to an impressive chorus. Beat the Bastards has a sorrowful bagpipe intro before turning to a death metal romp full of fire and intensity. We even get a screaming solo. Passchenhell comes back with the rumbling doom or sludge tones building its guitars in layers. I love the use of violent drumming and riffing while an off beat violin blazes away. It's sounds a little off but I think it is meant to and it succeeds in unsettling the listener. They repeat this trick a few times in the song, again showing an exciting level of detail.
C'est Mon Dernier Pigeon starts with the sampling of an officer welcoming recruits to the army before turning into a punishing assault. Death metal, maybe blackened death. Whatever it is it is damn heavy with thunderous drums and violent speed riffing. You get a bit of a chunky groove section in the middle before it comes back with even more force to close. There is so much quality on The Blind Leading The Blind that you kind of expect a bit of filler but instead we actually build towards the best song on the album. The final track, barring a sampled outro, is called The Hundred Days Offensive and it is perfect. It starts with a clip from the movie All Quiet on the Western Front and tells the story of a small squad of soldiers abandoned in a trench and slowly succumbing to enemy fire and mustard gas.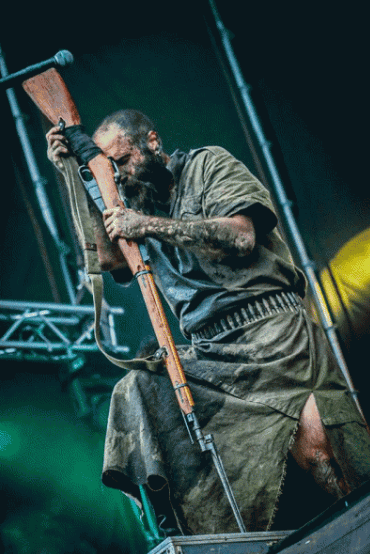 It's dark, powerful and intensely thought provoking. The longest song on the album, this is the epic. It builds with morose melody before the film clip comes in. It's cleverly slotted into the song to make it feel like it belongs. As it fades away the drums start building and building until the guitars drop in post black metal power. Dark riffing and high toned leads create a multi-layered sound that is nothing short of incredible. We get a brilliant solo near the end that just oozes with emotion before the bone shuddering heaviness returns through to fading away at the end.
The Blind Leading The Blind is nothing short of phenomenal. 1914 have done an amazing job of creating an atmospheric beast that genuinely transports you to 1914. The concept is amazing and I am blown away by how it is represented using black and death metal. It works perfectly. Musically, the guitars of Liam Fessen and Vitalis Winkelhock are fantastic. Often simplistic but perfectly suited to their surroundings, jumping from pounding riff to haunting melody to screaming solo at will. The drums are brilliant. A real highlight. Rusty Poloplacht is insanely talented and jumps between styles with ease. Kumar's vocals are powerful and dynamic. Armin von Heinessen on the bass pounds out bone shuddering rhythms. They all sound like a fully dedicated, tight unit and it reflects in the music.
Aside from a few of the phrases not always working, being more broken English, the album is damn near perfect. I would urge any fan of metal to check this absolute banger of an album out.
Do so by grabbing a copy of The Blind Leading the Blind at all the usual streaming platforms now. You can also grab a digital copy from 1914's Bandcamp page here. Finally grab a physical edition and some merch from Napalm Records, here. Find out more about 1914 at their Facebook page, Instagram and YouTube channel by following the links.
The Blind Leading the Blind by 1914 (Napalm Records)
The Final Score -

10/10