Album Review: Strigoi – Abandon All Faith (Nuclear Blast)
When Paradise Lost guitarist Greg Mackintosh put to rest his Vallenfyre side project in 2018, he closed a difficult, but an ultimately cathartic period in his life. Created as a tribute to his father John, who passed away in 2009, Vallenfyre originally served as a sounding board for Greg's grief, but then delved into his nihilistic take on the world. Vallenfyre's brief existence was intentional — the band always knew they could go no further than the three studio albums that bore their name. A mere few days after Vallenfyre played its last live show in September 2018, Mackintosh announced the formation of a brand-new band, Strigoi.
Named after the troubled spirits in Romanian mythology who could rise from the grave and assume an entirely different form, Strigoi's lineup is rounded out by former Extreme Noise Terror and Vallenfyre bass player Chris Casket. (Paradise Lost drummer Waltteri Väyrynen provided studio drums but will not be a full-time member.) Recorded at his Black Planet studio between January and March 2019, the resultant 12-song 'Abandon All Faith' debut finds Mackintosh culling from his love of old-school death metal, grindcore and punk for a visceral, but cinematic offering of extreme metal.
In his own words:
With Vallenfyre, we went down this path where it got more and more crusty. I thought we couldn't take it any further, so I needed to put in some new elements. With Strigoi, there's a bit of spookiness, even some subtle elements of industrial and even black metal. The goal was to switch it up a bit. I was perfectly content with what I was doing in Vallenfyre, but for Strigoi to stand on its own, I wanted to try new things to separate ourselves from the pack.
Abandon All Hope will be released on November 22nd 2019 via Nuclear Blast.
How do you differentiate between two bands that have the same heavy intent? The same focused fury and inescapable savagery? When you are Greg Mackintosh, the answer comes from refinement and with Strigoi he shows just where his new band is heading while not moving much from his roots.
Yes, Abandon All Faith is every bit an extreme metal album. A 12-track beast built on a bedrock of chaos and noise. However, the word 'cinematic' comes up a fair bit and that's because what we have here is an album that takes the word extreme and gives it some much welcome flair and pizazz. In a way that doesn't distract or take away from the unrelenting heaviness of it all.
The album begins so strongly, Phantoms' guitars and drums ringing loud and true as a wall of inescapable noise washes over. With the arrival of Greg's scathing vocals, it descends into chaos, every so often emerging with a haunting guitar tone before sending us back under for even more choking blackness.
Short and much more punk-infused, albeit on the heavier side of things, Nocturnal Vermin comes next before Seven Crowns swings and hits so damn hard. Heavy doesn't do this justice as the there's a hell of a lot more going on. A drum beat with some heft behind it, Mackintosh growling and gurgling away all while the guitars screech and wail.
It's another short grinding stab wound with Throne of Disgrace to be followed up one of the best tracks on the album. Carved Into the Skin is the example you play when Vallenfyre fans want to understand what Strigoi are.
A spectacle of metal, sinking into the mire like no other. However, the more thought-out guitar rhythm gives it this edge that just makes it sound so huge. Then we have MacKintosh's vocals. Always deep and unforgiving, he's at his growling best. A sickeningly slow track, it is mind-melting in its purpose and utterly unforgettable.
How do you follow that? By turning up the fury and strife for Parasite and Iniquitous Rage. Although with a title like the latter that is pretty much expected. What isn't, is just how damn good the tempo is.
With every new track, Strigoi continue to amaze. It's not just that it's deep and dark metal but rather that it's so varied and layered. The more Abandon All Faith goes on, the more down the rabbit hole of horror we plunge. As the pointed and sharp riffs of Plague Nation makes its mark, it is followed up by the daring rhythmic noise of Enemies of God. A track that could almost be called catchy by Strigoi's standards.
All good things must end though.
Scorn of the Father and the title track ensuring it's with a bang and not a whimper. The former, a chaotic and beastly effort that sees Strigoi throw their all into doing permanent damage to the hearing. While the latter is a classy effort that is bleaker and blacker then most will think possible.
It proves once and for all that Vallenfyre this ain't. This is Strigoi and you'd be a fool to pass Abandon All Faith by.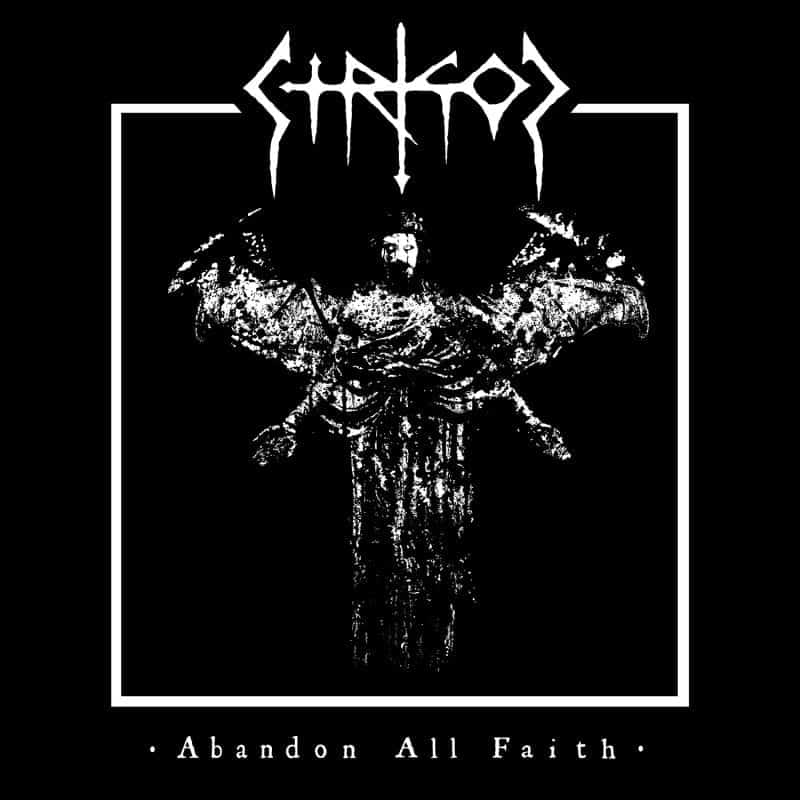 Strigoi – Abandon All Faith Full Track Listing:
1. The Rising Horde
2. Phantoms
3. Nocturnal Vermin
4. Seven Crowns
5. Throne of Disgrace
6. Carved Into the Skin
7. Parasite
8. Iniquitous Rage
9. Plague Nation
10. Enemies of God
11. Scorn of the Father
12. Abandon All Hope
Links
Strigoi - Abandon All Faith (Nuclear Blast)
The Final Score -

9/10