Album Review: Static Abyss – Labyrinth Of Veins (Peaceville Records)
Labyrinth of Veins is the debut studio album of eerie death/doom metal band, Static Abyss. A new band from Greg Wilkinson and Chris Reifert of US gorelords, Autopsy. Labyrinth of Veins will be released on the 22nd of April 2022 via Peaceville Records.
Autopsy, this is not. However, it would be a bit of a lie to not note that here and there, elements of the legendary death metal band sneak in. Which was always going to happen when you have two prominent members starting something new.
So, what does Static Abyss offer that Autopsy doesn't? An intense combination of death and doom played with all the furore of a band wanting to make an impact. Which Static Abyss certainly manages as they come careening around the corner with fire in their eyes and hatred in their hearts on the opener, Feasting on Eyes. Hold on tight though, as this is the first indication of a different beast. The track shifting tempo and becoming darker, doomier, and kind of epic. It's a momentous start.
That momentum carries on into the spitting, snarling, and crushing heaviness of Nothing Left to Rot, You Are What You Kill, Mandatory Cannibalism and the title track. Each track showcasing a wild array of instrumental ideas, blending ferocious death with dark and evil doom, and delivering passionately driven aggressive vocals.
It really is something special and far more captivating than you might expect. So, it's no real surprise that Jawbone Ritual gives us something with head-banging rhythm. Or that Contort Until Death is unfiltered and unrivalled death metal chaos. Or that Tectonic Graveyard moves with doomy destructive power.
Putting it bluntly, Static Abyss are killing it here and making it abundantly clear that this band/album is completely its own thing.
Further prove coming from the final two tracks, as Static Abyss deliver an explosive short slice of mayhem with Morgue Rat Fever. Following that up with a more measured, but still brutally intense, showing on Clawing to The Top of The Death.
You don't get many better debut releases than this.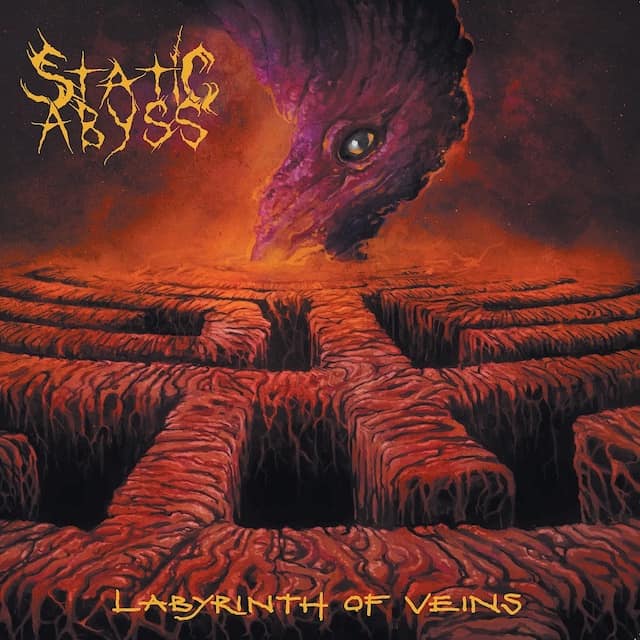 Static Abyss – Labyrinth of Veins Track Listing:
1. Feasting on Eyes
2. Nothing Left to Rot
3. You Are What You Kill
4. Mandatory Cannibalism
5. Labyrinth of Veins
6. Jawbone Ritual
7. Contort Until Death
8. Tectonic Graveyard
9. Morgue Rat Fever
10. Clawing to The Top of The Death
Links
Pre-order | Facebook | Instagram
Static Abyss - Labyrinth Of Veins (Peaceville Records)
The Final Score -

9.5/10