Album Review: Stargazers by Drops of Heart (Self Released)
Russian melodic death metal band, Drops of Heart, are all set to release their sophomore album on the 22nd of July entitled Stargazers.
Drops of Heart was formed in the Russian city of Ufa during summer of 2008 by young musicians without any significant experience in this field. After a few line-up changes, the band tried to make the first serious recordings and released the debut EP titled Truth of the Closed Eyes. The band continued to develop their musical skill and their appearances at gigs in the band's home town became more frequent. However, frequent line-up changes negatively affected the atmosphere in the band and this led to them calling it a day in 2010.
After several years of silence, vocalist, Denis Fakhrislamov, together with a friend and a colleague in other bands, Vadim Nizamov, gave Drops of Heart a new birth. Improved, updated and feeling confident and united, Drops of Heart began working on new material. In December 2014 they released their first full album, aptly named New Hope.
Drops of Heart experimented a bit after this with a series of maxi singles – Time and Pulse, Amanda, Faceless and Starlight. Each one was released in Russian, English and as instrumentals as the band exercised their creative muscle. Some videos, covers and alternative versions of previously released tracks joined the singles and they even had Soilwork's legendary vocalist Bjorn Strid join them on Starlight. Some more experimentation came with a more atmospheric and expansive sound including the use of electronica and the blending of metal sub genres before the band started work on their next release. And now, after a fair few years, is that time, Stargazers – due out on the 22nd of July.
Drops of Heart are Denis Fakhrislamov on vocals, Vadim Nizamov on vocals, guitar, keyboards and bass, Pavel Klimov is also on guitar and Artem Gabbasov is on the drums.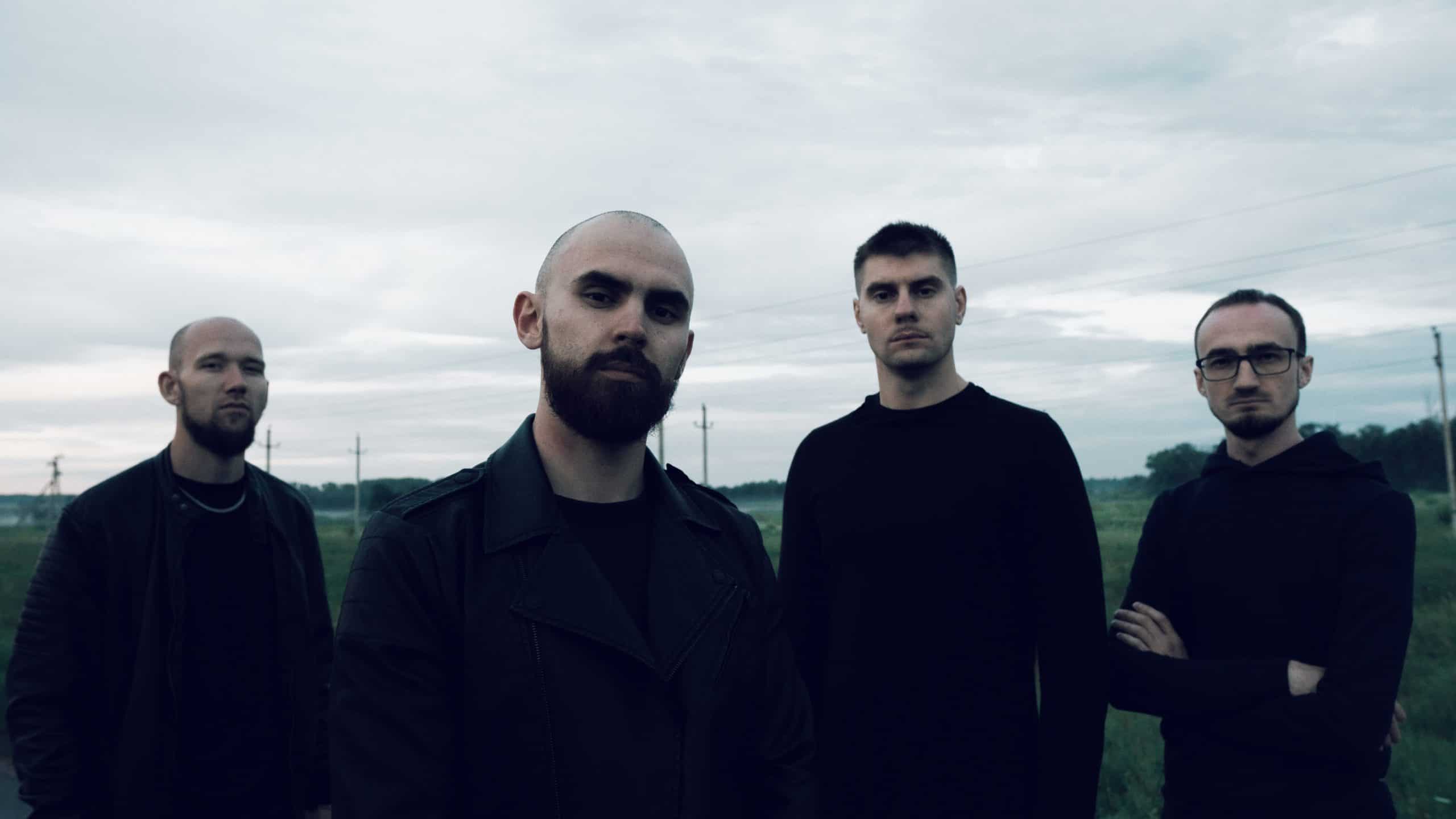 Stargazers is 12 tracks, or 13 if you include a bonus track, and weighs in at around an hour in total length. The album opens with Echoes and it should take all of about 60 seconds for you to realise this album is going to be good. Ethereal guitars lay down a sombre melody through Echoes with building sections that suddenly drop into crunching beats. There is a beautiful contrast on offer with steaming melodic leads transforming into beastly metal. Clever use of backing effects and synth add another layer into a complex song that fills your body and soul with emotion. It is progressive, a little "gaze" but plenty heavy too and a winning way to start off an album.
It never really lets up either. The contrasting elements are the lifeblood of the album with variety coming in whether the song is more heavily weighted to the dark, or the light. Songs like Frost Vice lean more heavily on the darker sound but still hit you with a building melodic intro before descending into a powerhouse of heavy rhythms, vicious vocals and progressive melody. I love that the vocals are in their native tongue too. There are some fantastic gang vocals moments and a banging solo.
Escapist is another track that leans towards the heavier side but only after an intro of gorgeous, gentle melody. The riff in the verse is meaty and will get your head banging. The vocals in the verse are venomous but lead into a cleaner, melodic chorus. It's a ripping track combining pulsating drum blasts and old school guitar leads. I love it. There is so much quality metal on this album. Starlight is another banger that starts with ripping drums and a dreamy solo before turning into a menacing beast of a song. It has a fantastic chorus with all sorts of vocal range son display and ends with 30 seconds of atmospheric synth that lifts the spirit a bit.
Modern Madness hits hard with a punchy riff and layered guitar sound. It has a wicked pace to it and would be a real pit starter. Coffin comes with a weighty amount of groove and a little more reliance on backing atmospherics. It has some really neat ideas though. Sudden key changes, stop starts, transitions between styles. It's a very creative song. Exodus is another hard hitter though it restrains the assault a bit hitting home instead with big power riffs and loads of chug, occasionally descending into chaos but quickly pulling it back. The drums and bass in this reverb through your bones brilliantly.
Other songs on the album rely a little more heavily on the "gaze" style with beautiful post metal ambience and progressive ideas. Knot is a wonderful song, finely balancing harsh death metal with dreamy soundscapes. From it's melodic intro it transitions into a filthy blasting beast before gently lifting you on the wrings of a guitar solo to soar through the sly. Lull has a fuller sound to the guitars and really hits home emotionally with strings that rain feeling down upon you. The echoed roared vocals over barley a drum beat and acoustic line is insanely good to listen to, as is the almost folk like gang vocals that follow, It's a genius track and one of my favourites.
Discoverers gets very close to being a black gaze track reminiscent of Ghost Bath musically. The rhythm section absolutely slay with a relentless speed assault while the lead guitar plays out a high pitch line that works perfectly while feeling purposely separate. The vocals are slower, darker and a little scary before it switches into angelic clean guitars. The ending with violins and gentle soothing classical notes is brilliant. It sets up the next track, Death Lover nicely. And what a song this is. Yet another firm favourite for me. Its very different to the rest of the album, in a way. That is kind of what makes it fit. Stargazers rarely has two songs in a row that sound similar yet somehow it all works perfectly as a singular album.
Death Lover has loads of gentle guitars and harmonious clean vocals that lull you in before a transition into powerful, passionate uncleans. It's amazing to listen to and then, to top it off, we get a beautiful acoustic section that ends with a saxophone. The blend of sax and guitars is great. Anyone who listens to Rivers of Nihil knows they work in metal. After our gentle intermission, it builds back into a screaming lead solo and then all the way back up to the punchy riff and forceful vocals in what feels like an epic ending to an album.
It isn't though. We still have one left to go and that is the title track, Stargazers. Continuing on the ethereal sound, it closes this excellent album really well. I love the tapping drums in the intro and the melodic guitars. The build up to electric is great, the backing synth is used tastefully enough. There is a bit of an industrial/Rammstein feeling vibe in the first verse which I don't love but it is made up for by the glorious lead guitar line, the huge chorus and the absolute groove party in the second verse. Damn.
So, this is Drops of Heart and their second album, Stargazers and wow. What else can I say other than this is an amazing album. Truly remarkable. There is so much variety on offer and nearly an hour of music which in itself is rare from bands these days. That hours passes in seconds as you get lost in the ethereal soundscapes created by the band. There is so much passion and fire on offer. I understand hardly a single lyric but feel every note. Occasionally dragging me down into an introspective state but also picking me back up again and raising my spirits. It's an album that balances beauty and the beast with amazing skill and precision. This is a genuine album of the year contender. Don't miss out.
Preorder a copy of Stargazers directly from Drops of Heart at their Bandcamp page, here. Or keep an eye on your favourite streaming service for the release on iTunes, Google Play and Spotify.
Drops of Heart Links
Bandcamp – Facebook – Instagram – VK – YouTube
Stargazers by Drops of Heart (Self Released)
The Final Score -

10/10