Album Review – Sign of the Dragonhead by Leaves' Eyes (AFM Records)
German/Norwegian symphonic metal band, Leaves' Eyes, released their latest album on the 12th of January. That album is called Sign of the Dragonhead and it was released via AFM Records.
Leaves' Eyes were formed in 2003 by Liv Kristine and the entire line up of Atrocity. She also got married to keyboardist Alex Krull and they pushed out 6 full length albums before things soured. A messy divorce saw Liv Kristine unceremoniously dumped from "her" band and out in the cold. Sign of the Dragonhead is the first full length release since Liv's forced departure. It is therefore the first to feature the new vocalist, Elina Siirala previously of Angel Nation.
It won't take a genius to work out that Elina's position in the band has, and will, be met with some unpleasantries due to a loyal fan base in support of Liv and against her treatment. For Elina, what matters is whether or not she can sing and add something to the band. In that respect, she is well set. She has a strong voice, a little deeper than Liv's, but suitably operatic and occasionally soothing.
We first got to hear Leaves' Eyes sans Liv Kristine about a year ago when they released an EP called Fires in the North. You can read our thoughts on that here. I liked the title song a lot though disagreed with it being an EP seeing as it contained one new song and a few newly recorded older tracks.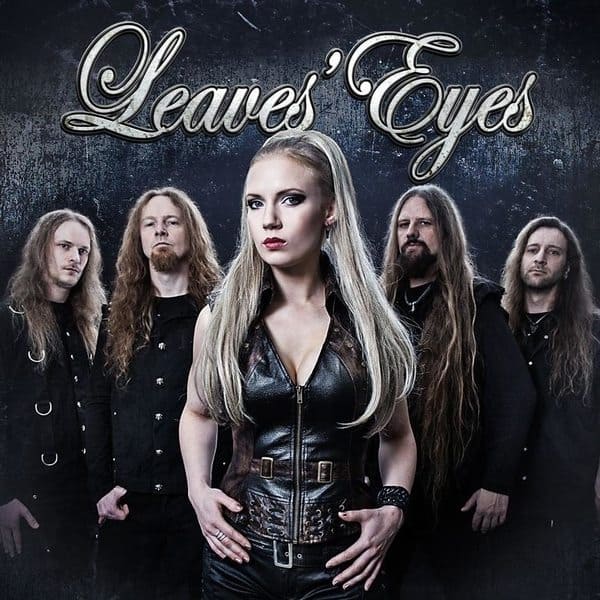 Leaves' Eyes today are Alexandar Krull on keyboards and backing vocals and Thorsten Bauer is on guitars and bass. They are the remaining founding members. We then have Joris Nijenhuis on the drums and Pete Streit on guitars. Obviously Elina is the main vocalist. Leaves' Eyes and their Liv Kristina issues aren't the first line up problems they have had either. To date they have listed 13 previous band members and a further 3 previous live bassists. That seems excessive and makes me wonder if there isn't a deeper rooted issue in the band, maybe with one of the long term members?
Still, none of my business or concern. We are here for music and, let me tell you, Signs of the Dragonhead is…………… a little boring.
I find the droning, churning slow to mid tempo pace of a great portion of this album to be sleep inducing rather than exhilarating. It seems like an album that has a few decent concepts and ideas but has then been over produced, over mixed and dumbed down to try to make it a bit more of a commercial success (maybe). Instead it has lost it's niche and reason for being and often sounds muddy, clichéd and offensively over simplified.
Songs like the opener, title track Signs of the Dragonhead. It starts off okay. A decent drum rhythm, symphonic backing and crunchy guitars sound decent along with choir like vocals. The music fades to the background quickly to focus on the vocals. Occasionally we get a little of the gruff backing vocals from Krull and in truth, they sound muffled and lack power so don't add anything to the track. A flat chorus leads into a decent musical section with a nice solo before we fade back to background music while Elina stretches her considerable vocal chords.
Like a Mountain is a ballad within a sea of slow songs. Well sung, inoffensive music that is perfect background music but I found my mind wandering while listening to it because it is devoid of any spark. Anything to make it stand out as a song. This is a repeat issue on the album. It just doesn't hold the attention for long. Another ballad, Fairer Than The Sun fades passed quickly having not really made an impact. Shadows in the Night does the same. It's mid tempo beat should have kicked the album back on a notch but lyrically it is repetitive, predictable and unimaginative.
I feel like I am being really critical here so I should also point out that there are some decent moments on the album too. Volva has moments I really like. The folk instrumental solo is great and there are some interesting guitar lines, especially when it all combines at the end. Across the Sea is a fun track. The tempo raises and it has a nice bouncy feel to it. It is a little more like a folk/pirate metal track and it works well. Similar to Across the Sea is Riders on the Wind which carries on that folk feel. A decent tempo and really interesting vocal patterns with loads of backing carries it along nicely. The riff is pretty cool and there is a really strong instrumental section near the end for folk fans.
Fires in the North is also on here as a standard track, spitting in the face of the fans who paid good money for the EP release of it a year ago. Though I guess we got to listen to it earlier. Either way, I really like it as a track. The vocals are intense and it has a darker, more sombre feel than a lot of the diluted material on here. There is a nice enough chill out, ambient instrumental Called Rulers of Wind and Waves which sounds like it was made for a movie soundtrack. Nothing too energetic, like a battle scene. Maybe more surveying the battlefield after a battle scene. I don't know. Again I found my mind wandering a little here as to what movie it suited rather than being hooked in by the track.
Having made it this far, Sign of the Dragonhead ends on an 8 minute "epic" called Waves of Euphoria. It starts quite well with a huge symphonic sound. When that switches to a chuggier riff, we get Krull and Siirala trading off. She sounds great. He doesn't. A few moments of gruff gang vocals works well though but 2 minutes in and it is getting repetitive again. A few short instrumental sections work fine but overall this track doesn't have enough going on to be 8 minutes long.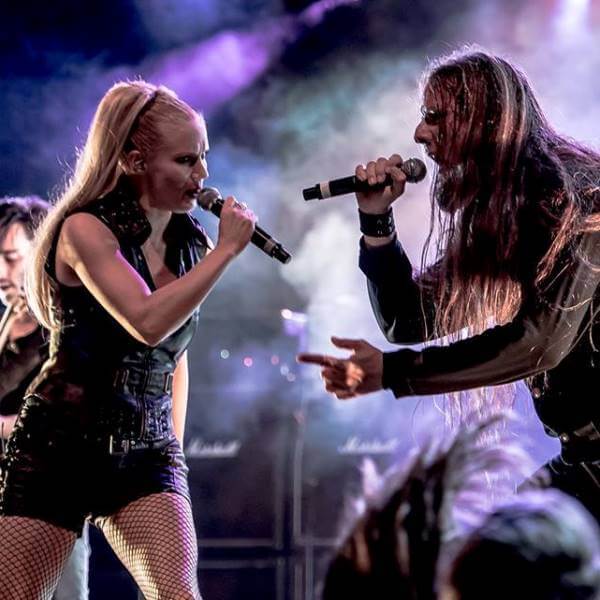 I am pretty disappointed overall. After hearing Fires in the North so long ago, I had high hopes for the album but it just never really takes off. A couple fun tracks and a couple tracks that have moments of imagination and intrigue aren't enough for a near 50 minute long stretch. Sign of the Dragonhead is hardly the most offensive thing you are ever going to hear, or hear this year. It isn't bad or disastrous, it is just a whole album of filler. Save perhaps for the track, Fires in the North. Fans of symphonic metal may find a lot more in here then I did. The fact I don't listen to a whole lot of this genre may explain why I am struggling to get the point of this album?
Still, you should give it a shot – you may find it hits the right notes with you?
You can pick up a copy of Sign of the Dragonhead in all the many formats from AFM here. You can also grab this, and more from Leaves' Eyes at the Amazon links below this article. Find out more about Leaves' Eyes over at their website, on Facebook, Twitter and Instagram. Be sure to give them a like or follow while you are there.
[amazon_link asins='B07795T5N4,B07795T5N5,B00ZQ8FX9Y,B00FKVP2T8,B01L0EIWD6,B077VB1S1W,B001OTXM6K,B0777BMQ6R' template='UseThisOne' store='g0e5b-21′ marketplace='UK' link_id='ccea6144-fc8d-11e7-86ec-c1b902562b7b']
Sign of the Dragonhead by Leaves' Eyes (AFM Records)
The Final Score -

4/10