Album Review: Shotgun Rodeo – Double Barreled Vengeance (Self Released)
Formed in 2008 by guitarist Don Shrediablo, Shotgun Rodeo is a hard hitting heavy metal band hailing from the city of Trondheim, Norway. Seamlessly cruising across a sea of metal styles and sub-genres, Shotgun Rodeo surpasses any premeditated sonic expectations that the listener may have had before listening.
Labelled as a band that is both nostalgic and forward thinking, Shotgun Rodeo is a band that will appeal to many different listeners from the metal world. Never afraid the push the boundaries, the band are now gearing up to release their third full length album, 'Double Barreled Vengeance'. Out on September 25th 2020.
A cursory listen of Double Barreled Vengeance confirms just how difficult Shotgun Rodeo are as band to categorise. Is it hard rock? Traditional metal? Is it groove metal? Speed metal? Is it hair metal? Or is it all of those things and more?
Forget trying to label this band, just sit back and led the hair-flinging, head-banging heavy metal goodness was over.
With a ton of good vibes and defiant stances, they rip through a load of bangers straight away. The Devil on Your Shoulder, Morphine Drip and The Big Bad Wolf lifting the spirits and energising the soul with relative ease. The ripping Mushroom Clouds brings the fire and the flames with a speedy number, Boys in Blue is a bit of an anthem, Echo Chamber is riff heaven with a kick-ass chorus and Knuckle Sandwich lays its tone out straight away with a Duke Nukem voice sample.
Happily, there is a ton of variety in Double Barreled Vengeance that helps keep things at a high level as we enter the twilight part of the record. Although don't be surprised to find a ton more riffs, groovy beats and hooks that dig in deeply with Ruffling Feathers, Killing the Scene, Surviving the Killshot, and Torches and Pitchforks.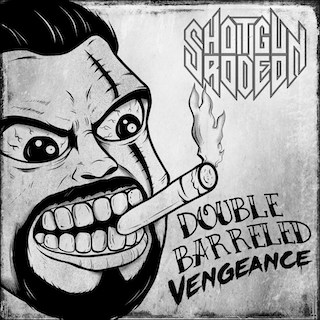 Shotgun Rodeo – Double Barreled Vengeance Full Track Listing:
1. The Devil on Your Shoulder
2. Morphine Drip
3. The Big Bad Wolf
4. Mushroom Clouds
5. Boys in Blue
6. Echo Chamber
7. Knuckle Sandwich
8. Ruffling Feathers
9. Killing the Scene
10. Surviving the Killshot
11. Torches and Pitchforks
Links
Shotgun Rodeo - Double Barreled Vengeance (Self Released)
The Final Score -

7.5/10