Album Review: Septicflesh – Infernus Sinfonica MMXIX (Season of Mist)
Infernus Sinfonica MMXIX, the upcoming live album from the Greek extreme metal band Septicflesh captures their sold out show at the Metropolitan Theater in Mexico City in February last year. The live album will be released on July 31st 2020 this year on CD, vinyl, DVD and Blu-Ray.
The show was the largest production of its kind at the venue, which included the band and over 100 musicians from the Symphonic Experience Orchestra, the Enharmonía Vocalis Choir and the National University of Mexico Children's and Youth Choir.
Speaking about the upcoming live album, the band comments:
On the 2nd of February 2019, a historic for Septicflesh show took place in Mexico City at a fully packed Metropolitan Theater. For the first time and with the help of over 100 musicians, our songs were performed live in their full symphonic glory. The whole show was recorded and now it is time to present it to all our fans in a DVD/Blu Ray 5.1 entitled Infernus Sinfonica MMXIX that will be released from Season of Mist. We are grateful to all people that made this experience possible and success!
Having experienced Septicflesh on stage for the first time at Incineration Fest 2019, we can attest to just how amazing they are live. However, that was a show that certainly didn't have the grandness or bombastic addition of an orchestra and choirs.
This 15 track live release is Septicflesh like you've never heard them before. Possibly the most humongous and grandiose they will ever sound.
Focusing on the the last decade's albums for most of the album. 2017's Codex Omega, 2014's Titan and 2011's The Great Mass all getting tracks aired before the death metal legends head further back for a spectacular sounding version of the title track from 2008's Communion.
That's as far back as it goes but it's hardly a complaint, these four albums having the strongest and most spectacular of Septicflesh tracks. If the epic Vampire of Nazareth, twisted blackness of Dante's Inferno and thumping wonder that is A Great Mass of Death doesn't do it for you, there's no hope.
These three tracks alone are a seething encapsulation of how amazing this show is.
The extra life that the orchestral elements breathe into these songs can't be understated. Everything just sounds so crisp while still retaining that death metal savagery that erupts from every pore of Septicflesh.
However, like we always say, our idea of a live album is one where you can hear the crowd. One where we can picture ourselves part of the heaving mass of bodies losing their minds to exceptional metal. This is what we get with Infernus Sinfonica MMXIX.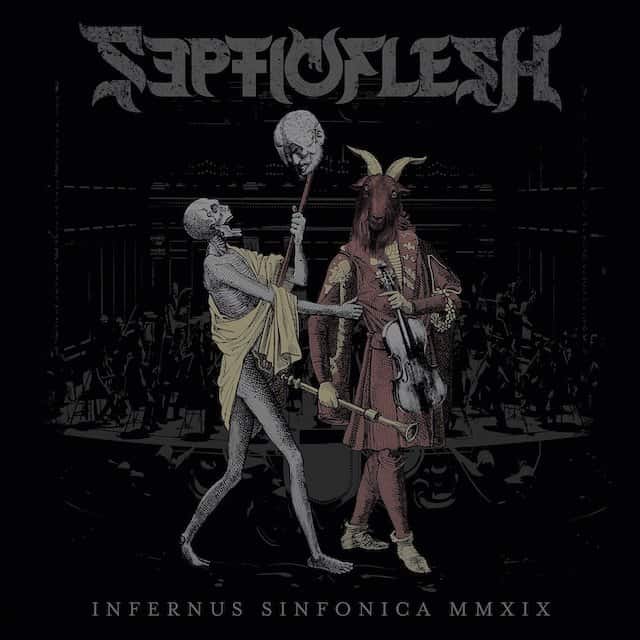 Septicflesh – Infernus Sinfonica MMXIX Full Track Listing:
1. Intro
2. Portrait of a Headless Man
3. Martyr
4. Prototype
5. The Pyramid God
6. The Enemy of Truth
7. Communion
8. The Vampire from Nazareth
9. Dogma of Prometheus
10. Lovecraft's Death
11. Dante's Inferno
12. Persepolis
13. A Great Mass of Death
14. Anubis
15. Dark Art
Septicflesh Links
Season of Mist Links
Septicflesh - Infernus Sinfonica MMXIX (Season of Mist)
The Final Score -

9/10