Album Review: Sarpa – Solivagus (Self Released)
In Sarpa's own words:
Sarpa was created to bend the laws of audible physics and more importantly, unchain the hearts of the fire born.
While primarily embedded in the essence of black metal, Sarpa throws other ingredients such as progressive rock, acoustics, old school death/thrash, and some Afro/Latin rhythms into the pot.
Solivagus was written and performed (all instruments, vocals) by David Baxter (drummer of Plutonian Shore, ex-Skrew, ex-Škan) in various studios throughout Central Texas in 2019. The album was mixed and mastered by Tony Petrocelly of Trepan Studios.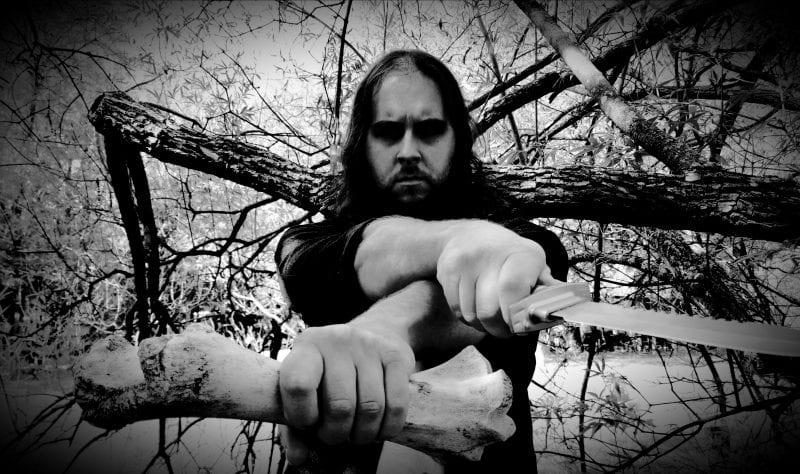 Rooted in Central Texas, Sarpa was created in 2018 when Baxter decided to move ahead with a solo record, after which a process of furious writing commenced. The dawning of this solo venture came subsequent to the performance of numerous shows/festivals across North America and Europe over the years with the aforementioned bands..
The journey will not end with the release of Solivagus though. Baxter plans on writing more Sarpa material for the next album, the purpose of which is to fracture the illusory mirrors of time and space!
Solivagus will be released on June 5th 2020.
A melting pot of ideas, one with a core that is glorious harsh heaviness, Solivagus is a challenging album. One that can certainly be described as chaotic with Sarpa as the chaos maker. However, it is also incredibly fascinating as some many ideas are bonded together like some sort of genetic metal freak.
With fascination, watch it rise from the surgical bed with Cleanse before recoiling horror as it begins its terrifying rampage with Triad of Might. Sarpa, the mad doctor snickering with glee to see what its creation has become.
After such a passionate effort, Predacious Dimensions offers a deeper and shadier rhythm interlaced with bursts of frantic black metal. A dark, very dark track and the later sounds of distant screams of suffering alongside a monotone guitar melody and drum beat is truly horrifying.
Keeping the listener alert & ready, Evanesce is haunting and quite pretty at times. The progressive guitar work is spectacular and the early quieter vocal performance fits in perfectly. It gets much harsher as it goes on but the guitar tone remains quite light and upbeat. Whereas Anguishing Reveries is the beast reawakening and with a serious blood thirst.
The title track's progressive edge is dialled up to a much higher degree and it even has some morose and soft melody. Before this unique album wraps up with Horizons Worlds Beyond. The devastation and demolition created by Sarpa's genetic freak is monumental and this is the aftermath where blood drips from the walls, tattered flesh lies about the place and there is no hope for the whimpering souls still alive.
Sarpa – Solivagus Full Track Listing:
1. Cleanse
2. Triad of Might
3. Predacious Dimensions
4. Evanesce
5. Anguishing Reveries
6. Solivagus
7. Horizons Worlds Beyond
Links
Bandcamp | Facebook | Twitter | YouTube
Sarpa - Solivagus (Self Released)
The Final Score -

9/10