Album Review: Reel Big Fish – Life Sucks…Let's Dance (Rock Ridge Music)
Reel Big Fish was one of the legions of Southern California ska-punk bands to edge into the mainstream following the mid-'90s success of No Doubt and Sublime. The band was distinguished by their hyperkinetic stage shows, juvenile humor, ironic covers of new wave pop songs, and metallic shards of ska.
The group cultivated an underground following that broke into the mainstream in summer 1997 when their single "Sell Out" became a modern rock radio and MTV favorite. Their appearance in the movie "Baseketball" as the halftime band also gained them more fans and helped the band's popularity to grow. Still fronted by original lead singer and songwriter Aaron Barrett, they continue releasing albums and touring relentlessly, playing more and more countries and bigger venues all over the world.
With the late-2018 release of the band's 8th studio LP, "Life Sucks…Let's Dance" (Rock Ridge Music) Reel Big Fish are finding themselves with a new focus and a renewed sense of purpose.
Barrett says, "We started recording the album in January 2018 and really took our time with it. Our friend and engineer David Irish just finished building his new studio "Pot of Gold" in Orange, CA, and we loved how everything sounds there. There's just really good energy and good vibes there, plus there's a really adorable studio kitten named Iggy Fluff there, so we may have accidentally made a positive, happy record instead of a pissed off, hateful record, oops…well, there's a little pissed off-ness in there and some sarcastic, funny lyrics as usual! Also, I just got married so there might be a few sappy love songs on the album too! Yuck!"
He adds, "Recording the album with this line up was really fun, we all get along really well these days and everybody was excited to make a new record. Everybody had lots of great ideas and really got creative with everything and I really think it shows.
Life Sucks…Let's Dance will be released on December 21st 2018 via Rock Ridge Music.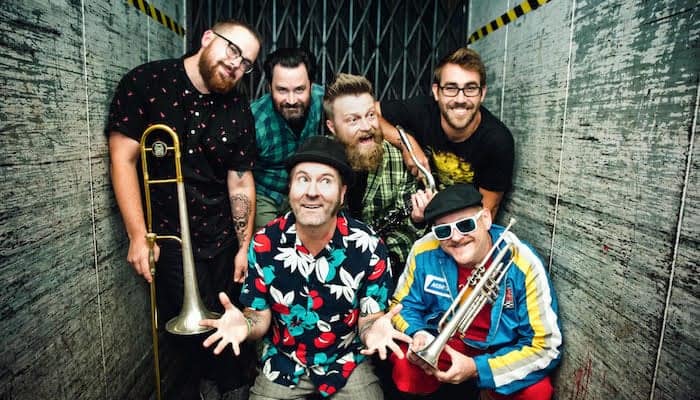 If you know your Reel Big Fish and their fun and infectious ska-pop style then you'll already have a leg up when it comes to Life Sucks…Let's Dance. The ska legends do what they do and they do it well as this 14-track album solidifies that. Even if there are few surprises here.
It's a polished, clean and catchy style of ska that has seen the band rise through ranks to be considered one of the best within the genre. Tracks like the title track, Pissed Off, Another Beer Song and G.D Beautiful Day sees the band at their strongest. Party music at its finest even when the tone is a little more sour or dour.
Some of these are going to be live favourites in the future for sure. Even if the album lacks an 'Everything Sucks' or 'Beer'. It's not completely brilliant from beginning to end though. With a number of tracks that pass by making little impression. Just standard sounding bouncy ska tunes that Reel Big Fish could write in their sleep.
Still the positives easily outweigh the negatives on this album. If you're looking for some feel good music to play over Christmas and New Year, you certainly can't go wrong with Life Sucks…Let's Dance.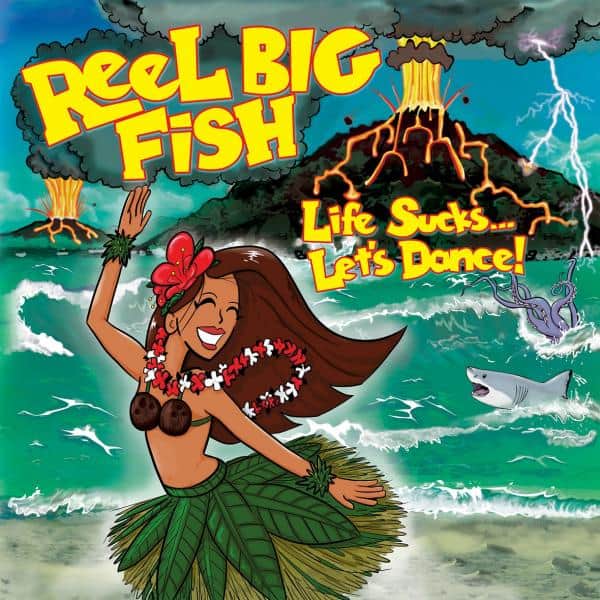 Reel Big Fish – Life Sucks…Let's Dance Full Track Listing:
1. Life Sucks, Let's Dance
2. Pissed Off
3. You Can't Have All of Me
4. In Love Again
5. Tongue Tied and Tipsy Too
6. Bleached Thang, Baby
7. Another Beer Song
8. Bob Marley's Toe
9. Ska Show (The Forces of Evil Cover)
10. The Good Old Days (The Forces of Evil Cover)
11. G.D. Beautiful Day
12. I Should Know By Now
13. I'd Rather Get It Wrong
14. Walter's Highlife
[amazon_link asins='B07J35TGFH,B07KKGYWQH,B07KKHSDQF,B07KKH1CR7′ template='UseThisOne' store='g0e5b-21′ marketplace='UK' link_id='65e52568-003a-11e9-9e8e-27faed4a024d']
Life Sucks…Let's Dance will be available via all major streaming services.
Reel Big Fish - Life Sucks…Let's Dance (Rock Ridge Music)
The Final Score -

7/10