Album Review: Pillory – Scourge on Humanity (Unique Leader)
Boston death metallers Pillory return with their long awaited third album Scourge on Humanity, where technical wizardry meets relentless power in this multi-sensory auditory onslaught as the band continues their relentless journey to expand upon their signature intricacies.
The brainchild of multi-instrumentalist Darren Cesca (Arsis, Burn in Silence, Goratory), Scourge on Humanity is set for release on December 18th via Unique Leader Records. 
Pillory mastermind Darren comments:
This record was written and composed in a very organic way. Each instrument goes through a wide range of timing and tempo changes to help tell the story. Each Pillory album for me is an experimental, extreme, grindy, death metal experience. Enjoy the ride.
There's a clinical approach here. One where every bit of detail has been meticulously planned out to ensure the cleanest cuts possible. Which is a strange thing to think about as the absolutely beastly metal comes roaring out of the speakers.
Of course this is a 'technical' death metal release so requires a different approach. You need to be awake, there's no background listening possible here. The intricate detail of the screeching and wailing guitars, the abolishment of the mind with blast beats, the guttural fire of the vocals… it's a mental battering. Hell, it will even take its toll physically too. You'll find your muscles aching afterwards through the sheer tension created by the waves of metal that wash over.
It's experimental. That much is clear from the very moment the weight of Depleted Mortal Prosperity comes crashing down. The chaotic yet so clinical jabs and kicks are gob-smacking in their complexity but also just how well structured the track is.
From there it's all systems go as Pillory push and push the limits. Two draining efforts in Synergistic Diffusion and Emanate Depreciation. The former, a controlled pounding that has some the filthiest sounding percussion so far and the latter, 11+ minutes of wild and frenzied guitar work layered amongst a face-tearing level of death metal savagery. These two are more than enough to leave the brain leaking out of the ears.
Hilariously, considering the state most will be in already, the albums not even half done. There's more, so much more technical brutality to come. From the daring surgical rhythm of Inherent Genetic Collapse to frightening razor sharpness of the guitars on Epidemic Infection to the no-nonsense ferocity of the intense assault that is Calculating Progressive Extinct.
It's exhausting, especially as it's over an hour long but it's also one of the most richly detailed tech-death albums of the year. One where the length isn't so much felt as it is suffered but the kind of suffering that you'll want to experience over and over again.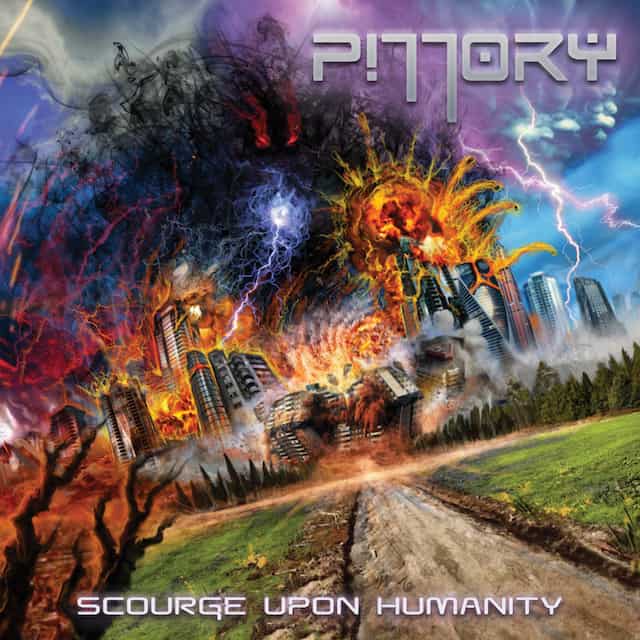 Pillory – Scourge On Humanity Full Track Listing:
1. Depleted Mortal Prosperity
2. Diluted Existence
3. Synergistic Diffusion
4. Emanate Deprecation
5. Inherent Genetic Collapse
6. Envisaged Transmutation
7. Epidemic Infection
8. Imminent Obliteration
9. Our Wretched Divinity
10. Calculating Progressive Extinct
11. Terminus
Links
 Facebook | Youtube | Unique Leader
Pillory - Scourge on Humanity (Unique Leader)
The Final Score -

9/10