Album Review – Outstrider by Abbath (Season of Mist)
Norwegian black metal band, Abbath, are back with their second album, called Outstrider, released on the 5th of July via Season of Mist.
We have had 3 singles released from Outstrider so far. There was some serious quality on show in those singles making this album one I have been desperately waiting for. So far we have heard Calm In Ire (Of Hurricane), Harvest Pyre and the title track Outstrider. You can read our thoughts on all of those by following the links.
The iconic Norwegian black metallers are a 4 piece with one change in line up since their debut release, the self titled Abbath. Iconic bassist, King Ov Hell has left citing musical differences. Apparently some of the lyrics on Outstrider are inspired by Swiss psychiatrist Carl Gustav Jung. Jung has connections to Christian mysticism, something King found to be incompatible with how he see the band. He released the statement below.
"I wish members of the actual band, label, and crew all the best for the upcoming shows and album. The music itself is nothing short of brilliant. However, I must maintain artistic integrity and respectfully step aside."
King is replace on bass by Mia Wallace. The rest of the band remains the same with Abbath on vocals and guitars, Ole Andre Farstad on lead guitar and Ukri Suviletho on drums.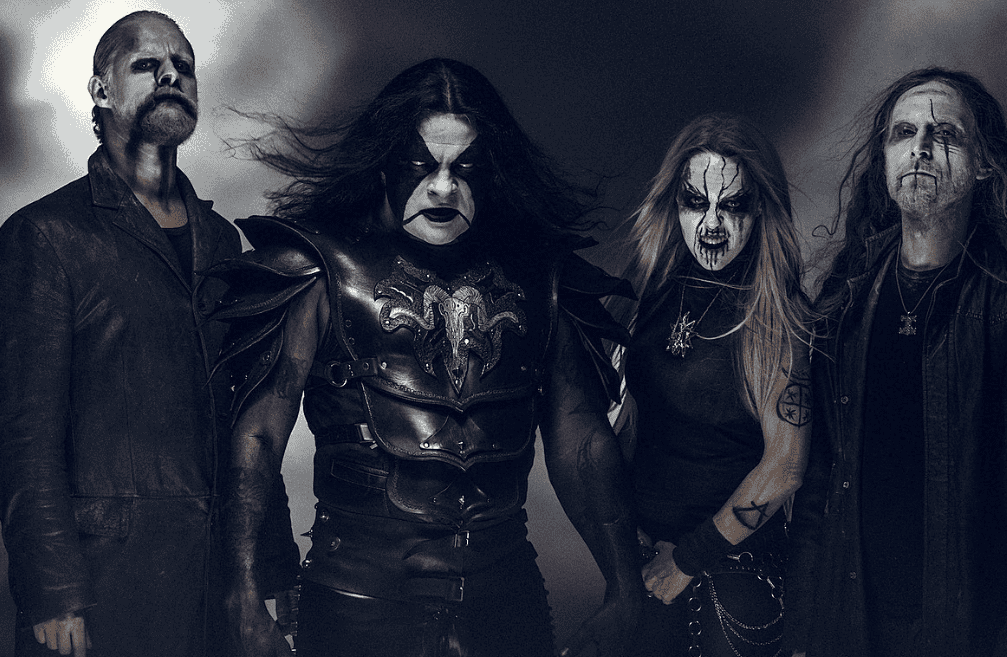 The three singles that came pout so far were all really good. Harvest Pyre and the title track, Outstrider, in particular are two absolute top quality black metal tracks. Good singles like that tend to point promisingly towards the quality of an incoming album. In this case, they absolutely do. The whole of Outstrider is dripping in top quality metal. There are some stand out tracks, some good but run of the mill ones and even a few expansive and creative ideas on show.
Not something I have heard an awful lot from Abbath but I particular there are some groaning noises used on Bridge of Spasms and Scythewinder that add a Rotting Christ element to the tracks. Bridge of Spasms is a solid song all round with pace and power and some excellent lead guitar work. Scythewinder is probably my favourite song on the whole album. It is viciously heavy and a touch traditional with some huge roars, squealing lead guitars and punishing rhythm. Hecate is another one bringing straight up heaviness. It starts with some atmospheric backing noise before exploding into life with a hard hitting riff and screeching guitar line. It's a fast and furious track with  a pretty relentless pace through most of the track. It stops for a breather with an eerie melodic section nearing the end before ramping the pace back up again for a big ending.
The same can be said of the album closer, Pace Till Death. I guess the clue is in the song title. The drums and guitars blaze out notes at hyper speed. The vocals are spat out at pace too creating a more traditional sounding track with loads of chaotic energy and aggression. It's a solid song to end a solid album on. Not everything on Outstrider is straight up traditional black metal though. Abbath show they are still willing to push boundaries, just a little. Maybe more of a gentle lean against boundaries than a straight up shove.
The Artifex, for example, has a jazzy drum solo at the start before waves of brooding bass and guitars drag you back to reality. What follows is a fast and heavy track with thunderous drum blasts and venomous vocals. It drops back into a cleaner sound for an almost 80's sounding solo that is pretty damn brilliant. Land of Khem has a melancholic intro that switches rapidly into a vicious onslaught of death metal. It eventually settles into a nice mid tempo rhythm with powerful bass lines and a crunching riff. It's another heavy track but also creative in its structure and tempo switches.
Outstrider is a solid album with a nice mix of old and new on show. There are traditional black metal moments within songs though it is in no way a straight up traditional black metal album. A few experiments with atmospherics, timing and temp switches keep Abbath sounding fresh. Their willingness to adapt their sound, even if only slightly, keeps them relevant. There are some absolute corkers on here too. In particular Scythewinder and The Artifex stand out on an album with no bad songs, a lot of great ones and a couple good. Great job!
Outstrider is available now on all the usual streaming platforms. You can also grab a copy from Abbath's Bandcamp page here or from Season of Mist, here.
Links
Abbath Website – Abbath Facebook – Abbath Twitter – Abbath Instagram – Abbath YouTube – Season of Mist
Outstrider by Abbath (Season of Mist)
The Final Score -

8.5/10