Album Review: Nile – Vile Nilotic Rites (Nuclear Blast)
You've got to be strong enough to survive through periods of bleakness, times of no hope, where things look like they'll never turn around, Nile's Karl Sanders says. You just gotta keep believing in yourself and pushing forward. The strong will ultimately survive. The weak fall by the wayside. Nile has a new ethos: we're not going to live in the past. That's over and done with. Nostalgia has its place, but we're virile now. We're going to do something meaningful now. This ethos bears out on 'Vile Nilotic Rites'. It's not dwelling on the band's past – it's showing what the band is capable of now. We are here to conquer!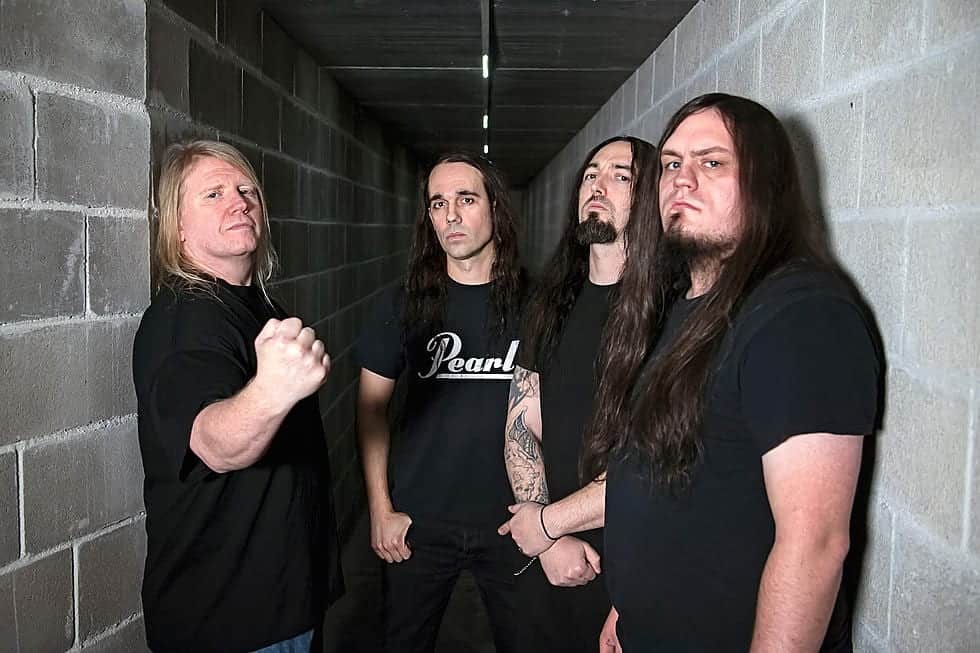 Vile Nilotic Rites started with the entry of new members to the fold: bassist/vocalist Brad Parris was brought on in 2015, while guitarist/vocalist Brian Kingsland joined in 2017. With a new band behind Nile – creative chief Sanders and long-time drummer George Kollias hold the fort – they reconfigured the foundation to focus on teamwork and, ultimately, songcraft. The quartet went into 'Vile Nilotic Rites' as a team, writing and collaborating together.
Since we took so long writing 'Vile Nilotic Rites', every lick, every note of every solo, every drum hit or pattern were carefully considered as part of the whole, Sanders says. Our pre-production has the vocals right there. I mean, when George was tracking his drums, he had the vocals, the guitars and so on. He had the context of what the completed song was going to sound like. He was able to play off that, and what he's done on »Vile Nilotic Rites« is nothing short of amazing! What I mean by this is: the drums and vocals aren't fighting each other; the guitars and drums aren't fighting each other; it's all working together, cohesive. For once, it all feels like we've got things working together not against. I think what we've done this time around is really amazing.
There's death metal and then there's Nile. For 'Vile Nilotic Rites', the mantra was: if it's not right for the song, it gets cut. Nothing superfluous or idiosyncratic were allowed to persist on and live through Nile's new team-based songwriting process. If a part was savage but didn't fit, out the door it went. But if it was merciless and fit into the overall design of the song, it was kept and curated. The end result of Nile's extreme musical vetting was 11 songs, sharp as obsidian blades, heavy as nine Nubian pyramids.
Vile Nilotic Rites will be released on November 1st 2019 via Nuclear Blast.
The masters are back. refreshed and re-energised for what is their best album in some time. This is Nile, don't you worry about that but the refinement of their sound has resulted in an incredible 9th release.
The extreme metal pours from this legendary band and the instruments are like putty in their hands. They mould them to their shape and needs with veritable ease resulting in an 11-track album that is all killer and absolutely no filler.
Nile fans will feel right at home straight away as Long Shadows of Dread, Oxford Handbook of Savage Genocidal Warfare and the title track burn with bright intensity. The guitars are on another level, the percussion tenderising and vocalist, Karl Sanders roaring with savage intentions.
The first time there is a momentary break in the extreme is with Seven Horns of War. The beginning sounding like the opening of a humongous battle where the scale of the opposing side is seen. It leads into some of the most guttural playing heard on the entire album. The latter half is so damn epic as the horns ring out.
A better track then that? Maybe not but there are plenty more bangers to be found. That Which is Forbidden, Revel in their Suffering and The Imperishable Stars are Sickened are just three of the tracks from the latter half that deliver knockout blows.
The important thing to take away from Vile Nilotic Rites is that it is heavy, so damn heavy but it is not 'heavy, for heavies sake'. Everything Nile do here has a purpose. This really does feel like the band were so meticulous when it came to deciding what went on the album and what didn't. The love and care they have shown for a musical style that doesn't always show it, is very impressive.
The form Nile are on here is going to remind a lot of people that they exist, for everyone else it is just confirmation that they are one of the best extreme metal bands around.
Nile – Vile Nilotic Rites Full Track Listing:
1. Long Shadows of Dread
2. Oxford Handbook of Savage Genocidal Warfare
3. Vile Nilotic Rites
4. Seven Horns of War
5. That Which is Forbidden
6. Snake Pit Mating Frenzy
7. Revel in their Suffering
8. Thus Sayeth the Parasites of the Mind
9. Where is the Wrathful Sky
10. The Imperishable Stars are Sickened
11. We are Cursed
Links
Nile - Vile Nilotic Rites (Nuclear Blast)
The Final Score -

9.5/10