Album Review: Molder – Vanished Cadavers (Rotted Life)
Vanished Cadavers is the debut full length from Illinois' Molder! 11 ravaging tracks of stripped-to-the-bare-bones death metal that delivers everything the earlier demos, live recordings, and split with Coffin Rot promised, and then some.
It features contributions from Ted Soukup (Melting Rot), Cody Davidson (Putrid Stu/Sanguisugabogg), Chris Monroy (Skeletal Remains), Mike Perun (Cianide) and Tom Knizner (Cardiac Arrest).
Vanished Cadavers will be released on May 22nd via Rotted Life Records (Limited edition 300 on black vinyl). With a cassette version via Headsplit Records and a CD version via Goat Throne Records.
No frills, no surprises…this debut is as straight-forward as you can get with death metal these days. An album of raw, unbending fury that leaves the mind that little more scarred through the sheer ferocity of it all.
That being said, it's not a mess and it is easy to pick out the individual elements. Such as the refined guitar riffing, substantial hooks, gurgling vocal performance and methodical drum beat.
The host of guests certainly don't do it any harm and in the case of Skeletal Remains' Chris Monroy, actively lift the album to higher heights.
Simply put, while what Molder do here isn't going to set the metal world alight, it is strong enough to stand on its own two feet and please both the old and new schools of death metal fans. What Molder do, they do very well.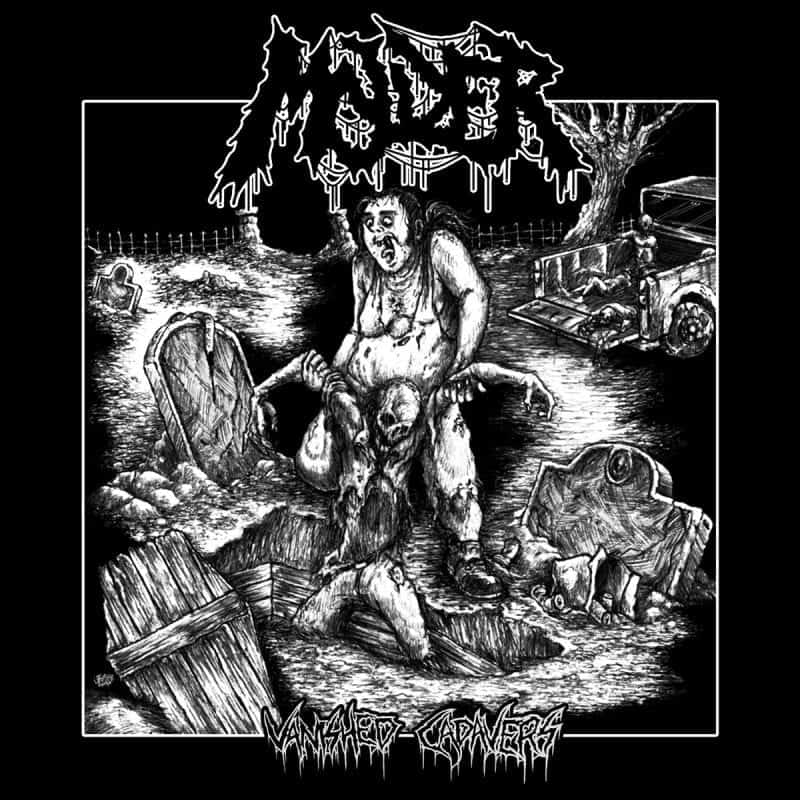 Molder – Vanished Cadavers Full Track Listing:
1. Granulated Chunks
2. Sweet Taste Of Death
3. Vanished Cadavers
4. Feasting On Dirt
5. Ritual Killing
6. Act Of Revenge
7. Necrobiome
8. Incipient Disease
9. God's Critters
10. Blood Chugger
11. Serenade In Lead (Asphyx)
Links
Bandcamp | Facebook | Instagram | Rotted Life
Molder - Vanished Cadavers (Rotted Life)
The Final Score -

7/10