Album Review: March In Arms – Pulse Of The Daring (Self Released)
Originally recorded November 2018, March in Arms' second studio release entitled Pulse of The Daring is finally ready for release. After months of tracking, mixing and mastering the band deemed the creation epic enough for public consumption. This time around the themes have branched out to varying battlefields. The album is a tribute to heroism and the human spirit amidst the horrors of combat.
It will finally see the light of day on December 4th, 2020.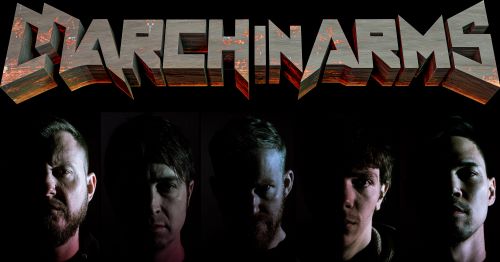 A daring offering that takes on the horror of war but puts a valiant spin on things with an ode to heavy metal. A larger than life opener with 1914, the thumping rhythm is one thing, but the sharp and catchy chorus is where it's at. Altar of the Gun slams just as hard but here the jagged riffing and pounding of the drums is what stands out.
Highlighting the defiance of Londoners during the bombings of World War II is the melodic power of Welcome to the Blitz. Before the screech of guitars and commanding vocals welcome the Nisei to have their tale told. The highlight in the track coming with an epic sounding guitar solo.
March in Arms then turn their attention to the Battle of the Somme with the title track. Focusing on the very first day of battle with a thumping effort, mixing mid-tempo rhythm with faster bursts for maximum effectiveness. Mogadishu (Blackhawk Down) and its banging beat is as gallant as the story it portrays, No Year's Resolution and Thunderbolt both have meatier sounds, the latter leaning towards a thrashier edge. Which makes sense seeing as it's a tribute to the A-10 warplane.
There's plenty more heavyweight metal to come though with the penultimate and very anthemic track, Omaha. Followed by March in Arms ending their epic history lesson with a rebellious finish that has a darker sound but still has you stand up that bit straighter.
It was certainly worth the wait.
March in Arms – Pulse of the Daring Full Track Listing:
1. 1914
2. Altar of The Gun
3. Welcome the Blitz
4. Nisei
5. Pulse of The Daring
6. An Act of Valor
7. No Year's Resolution
8. Thunderbolt
9. Omaha
10. Not for Nothing
Links
Bandcamp | Facebook | Instagram
March In Arms - Pulse Of The Daring (Self Released)
The Final Score -

8.5/10