Album Review: Malevolent Creation – The 13th Beast (Century Media Records)
Malevolent Creation's 13th studio album, The 13th Beast sees the long running death metal veterans return reinvigorated and with a revamped line-up.
After the recent passing of original singer Bret Hoffmann in 2018, new vocalist Lee Wollenschlaeger (Throne Of Nails, Imperial Empire) adds a different vibe to founding member Phil Fasciana's signature riffs, with his understandable yet deeper roar and also brought in his own flavour in the song writing process.
The 13th Beast will be released on January 18th 2019 via Century Media Records.
With such a momentous and terrible situation occurring you could forgive Malevolent Creation for possibly seeing this as an album to bed their new vocalist in. Not only that but being their 13th album, the question will always arise of if the fire and passion is still as hot.
Well, from the moment End of Torture welcomes us with a deep and guttural roar, we can confirm that the band is not half-assing it at all. The 13th Beast is a raging torrent of death metal blasts and ferocity not seen in some time.
The masters deliver an album that is beautiful in its simplicity while simultaneously being ugly as sin thanks to the roaring riffs, screeching solos and pounding drum beats. The band smash their way (in true death metal style) through gory sounding titles like Mandatory Butcher, Canvas of Flesh and Bleed of Flesh. Each one more brutal than the last.
If you've never been sold on death metal there is little throughout The 13th Beast that will change your mind. It's not Malevolent Creation trying anything new, instead cementing their position at the top while showing there is plenty of life left in them.
If you want nothing more then bone crunching heaviness wrapped up in blast-beats and hellish vocals then you have to check out The Beast Awakened and Trapped Inside. Both excellent examples of what Malevolent Creation bring to the masses with The 13th Beast.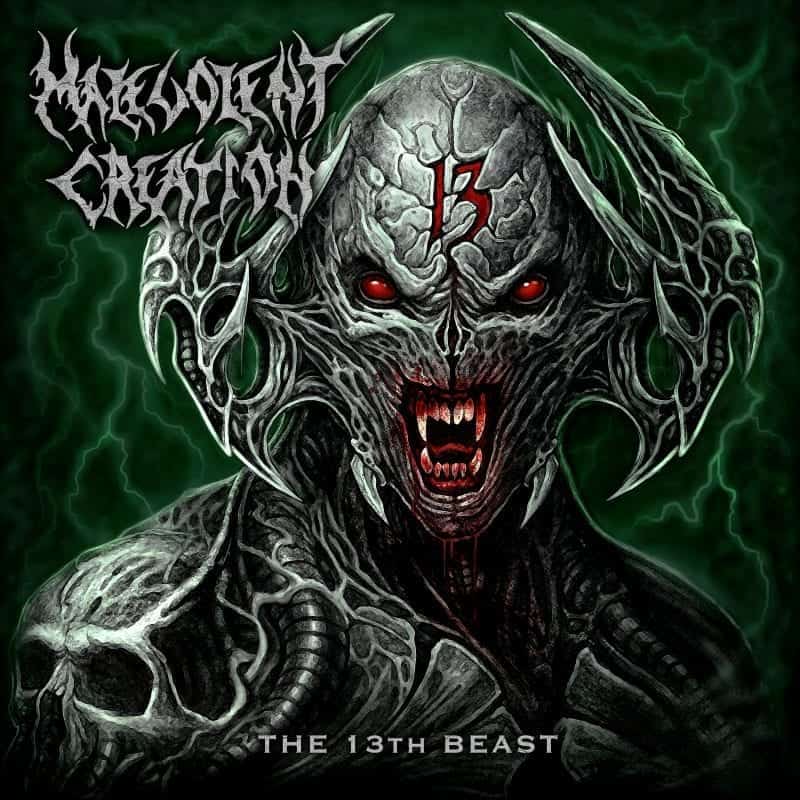 Malevolent Creation – The 13th Beast Full Track Listing:
1. End the Torture
2. Mandatory Butcher
3. Agony for the Chosen
4. Canvas of Flesh
5. Born of Pain
6. The Beast Awakened
7. Decimated
8. Bleed Us Free
9. Knife at Hand
10. Trapped Inside
11. Release the Soul
[amazon_link asins='B07KCFYW4Z,B07KB9YVCY,B07KBDC8H8,B07KBCD5BZ' template='UseThisOne' store='g0e5b-21′ marketplace='UK' link_id='94090fe4-14ec-11e9-9ac4-d1fd275c868f']
The 13th Beast will be available via all major streaming services and stores.
Malevolent Creation - The 13th Beast (Century Media Records)
The Final Score -

7.5/10