Album Review: La Morte Viene Dallo Spazio – Trivial Visions (Svart Records)
La Morte Viene Dallo Spazio are making their return on Svart Records with 'Trivial Visions', set for a March 26th 2021 release.
Something weird and wonderful is emerging from Italy. Something unique sounding and something with an eerie sinister edge. Called La Morte Viene Dallo Spazio (Death Comes From Outer Space), the classic Giallo horrors of old isn't just an inspiration for this band's name but rather it's something they infuse into their sound. We're talking captivating strangeness, psychedelic sounds and plenty of metal oozing through.
Utilising an array of instruments, some less common than others, La Morte Viene Dallo Spazio really infuse their new album with the feeling of being disconnected from your body. Your spirit floating through the ether witnessing both wonderful and horrifying sights. The eerie melody on the opener of Lost Horizon builds up a feeling of dread. One that finally passes with a robust and fast combo of drumming and guitar riffing.
That speed continues into the title track, the drums absolutely pounding away. This time round though, it drops into a fascinating blend of weird effects, disconsolate vocals and surprisingly energetic rhythm.
Note the theremin that crops up here and there so far. It's an instrument that La Morte Viene Dallo Spazio make great use of. Nowhere is it better showcased than on the next track, Cursed Invader. A super psychedelic trippy space journey. As well as the following sinister coldness of Oracolo Della Morte. The unique sound of this band coming to full fruition on both these tracks and you'll either love 'em or hate 'em.
If you want a bit more metal groove and are missing some vocals, fear not. La Morte Viene Dallo Spazio have you sorted with the rugged fuzz and clean echos of Ashes. The industrial pumping (like some gargantuan and imposing machine at the heart of a planet) and feedback of Spectrometer serves as a reminder of just how dark and alien this album can be.
Which makes the comforting and mellow start of the penultimate track, Absolute Abyss far more palatable. Don't get too relaxed though as this an effort that sees La Morte Viene Dallo Spazio drop into a bleak chasm so suddenly. Where exciting progressive touches warp the foot-tapping heavier beat with some gusto.
The finale of Altered States brings the whacked out journey to a close with the theremin taking centre stage again. Although it's backed up by chunky riffs and super-discombobulated vocals. Wavering as though coming from the other side of a wormhole.
As we said at the start, it's really weird but it is wonderful. There's a lot of unique stuff going on here and that La Morte Viene Dallo Spazio have managed to make sense of it all, is all the more impressive.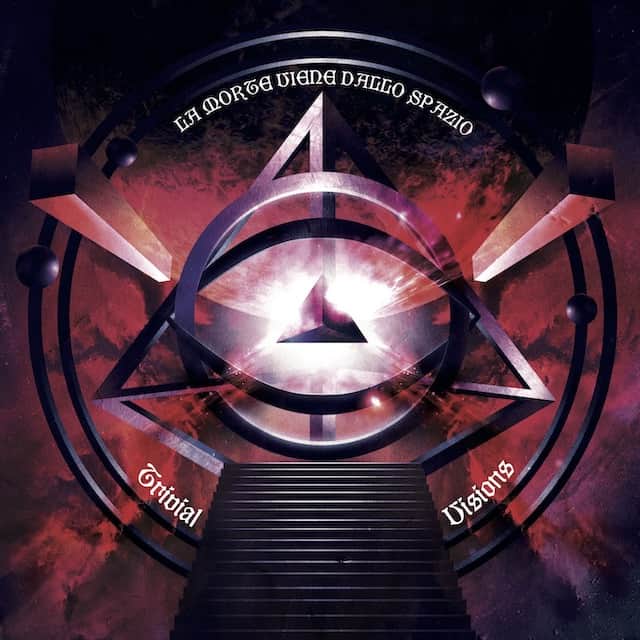 La Morte Viene Dallo Spazio – Trivial Visions Full Track Listing:
1. Lost Horizon
2. Trivial Visions
3. Cursed Invader
4. Oracolo Della Morte
5. Ashes
6. Spectrometer
7. Absolute Abyss
8. Altered States
Links
Bandcamp | Website | Spotify | Facebook | Instagram | YouTube
La Morte Viene Dallo Spazio - Trivial Visions (Svart Records)
The Final Score -

8/10