Album Review: Kaliyuga by In Hearts Wake (UNFD)
Australian metalcore band, In Hearts Wake, will release their 5th studio album called Kaliyuga in the 7th of August via UNFD.
In Hearts Wake are well known for their environmentally conscious music and this time they are leading the way even further with an inspirationally 100% carbon offset album The band measured each power socket, light bulb, pound of freight, travel and food consumed during the recording process to find the total carbon footprint.  This has been entirely offset through the purchase of carbon credits in the Yarra Yarra Biodiversity Corridor of Western Australia. The album will also be packaged and manufactured plastic free, using recycled materials only. Other bands take note, this is how you deliver action alongside your words.
Frontman Jake Taylor states: "Our mission to help support and sustain life on earth has made us realise that less is more. Many industries are evolving, and as musicians we feel it's time to do our part. It's been challenging to navigate the retail hurdles, find sustainable materials and successful companies that embody our ethos, but through a bit of research we've discovered that there are many solutions out there."
In Hearts Wake are long time champions of the earth, with their last three albums themed around the natural elements that make life here possible. 'Earthwalker' (2014) explored the element of Earth, 'Skydancer' (2015) – Air, and 'Ark' (2016) with Water. The band's fourth album, Kaliyuga, is born of Fire, inspired and bookended by the devastating fires that occurred in California and Australia throughout 2018, 2019 and 2020.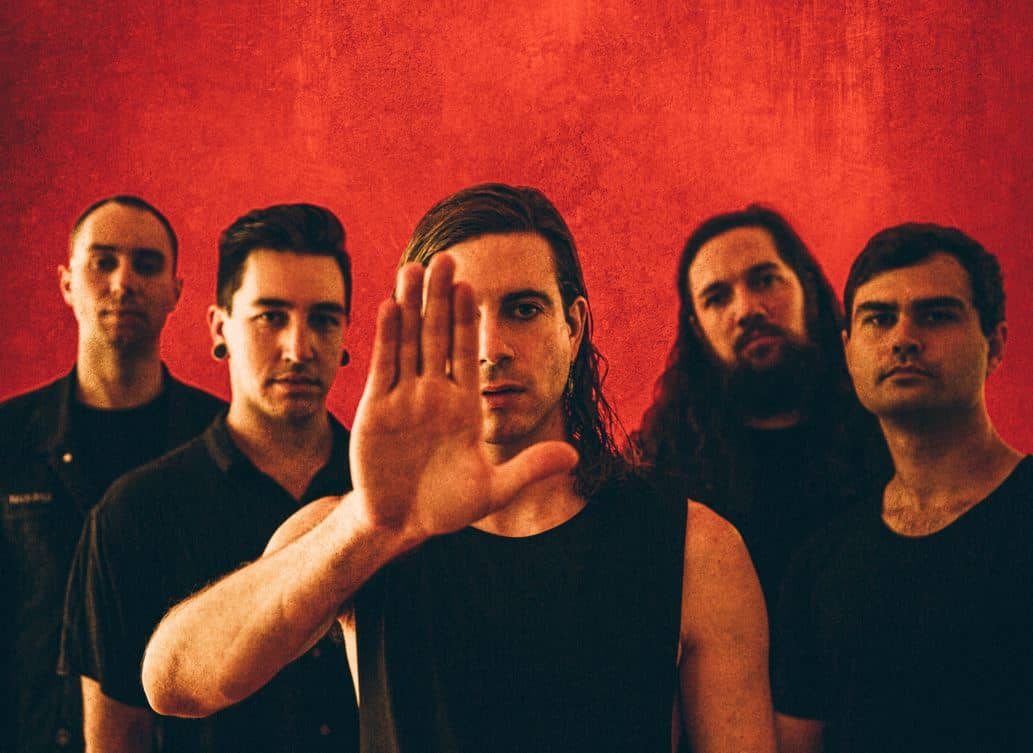 'Speaking about the new album, Taylor says: "Ancients from different cultures spoke of Four Ages of Humanity. The Hindu ancients called the Age we are in right now, Kaliyuga. A time when negativity such as discord, greed, materialism and fear create strife and imbalance for life on earth. We're seeing this in the world around us and in the chaos of recent events. But I believe we were born into this age for a reason — that we can transform the challenges we face by seizing the opportunity to grow and change the way we live on the earth and with each other."
Kaliyuga comes with 13 tracks on it and weighs in at around 41 minutes in length. The album starts off with a warning being broadcast, called Crisis, it delivers a stark warning that "our house is on fire". A good idea let down only by the fact it is horrific musically being more in line with some madly remixed dance classic with electro beats and remixed vocals. Not the start I expected or wanted. Thankfully it improves eventually. Not right away though.
Worldwide Suicide follows next and is a real mixed bag. Some strong vocals and huge slams raise the sprits but there is still a terrifying under current of those dancy beats. I don't like them but also don't think they combine well with the heavier music. It is chaotic, perhaps purposely, but it doesn't sound good. The first banger comes with the 3rd track, Hellbringer which features Jamie Hails of Polaris. big riffs, crunchy drums and a range of vocal talent combine to get necks bending. It has a catchy chorus too and flies by in a torrent of solid metal. The good stuff continues into the excellent Moving On.
A short track with an emotionally charged clean start that builds into a fiery and passionate track that really does capture you and pulsate throughout every cell of your body. The mixed harmonies of harsh and clean vocals work perfectly as does the transitions between clean and harsh, verse and chorus. This is the very best of In Hearts Wake.
Timebomb and Son of a Witch comes next. The former is another strong song with a real nu-metal vibe to it. The chorus is amazingly Linkin Park. Or at least that is what I got from it. It is good though. Whispered vocals in the verses build up to a powerful chorus. There is a strong breakdown that should get bodies bent double. Son of a Witch is okay. I find it a bit messy to listen to though it has plenty of components I like. The riffs are great and the drums are fantastic. I really don't love the clean vocals here but the heavy vocals are fire.
Crossroads, featuring Georgia Flood, is an interesting one. The slow, dark vocals of the verse are great and the female vocals come in then to provide an angelic contrast to the devilish menace from before. The chorus is great and her voice is amazing but I was a little disappointed as I was expecting to hear a wonderful coming together of the male and female vocals and it doesn't happen. Instead turning into pretty much just female vocals for the whole song after the intro verse.
Husk is decent. It has a nice beat to the chorus that gets your foot tapping. There are some nice vocal passages and harmonies too I could listen to for days. Nāga follows with 40 seconds of imposing music that leads into Force of Life. It's a good song with some fantastic drum sections. The mix of harsh and clean vocals comes hard here in a track you can let loose to. Iron Dice comes next featuring Randy Reimann of hardcore band, Massappeal. It's a strong song with a nice heavy verse that seamlessly leads into a clean verse backed by a nice bouncy riff. I like the creepy effects used in the verse here. They work well with the guitars.
We get in to the end of Kaliyuga now with the penultimate track, Dystopia. It promises a lot with some excellent drum, bass and guitar crunches in the intro but instead of exploding yet, it drops back into a cleaner section. It does build more gently now though and treats us to some excellent roars and guitar lines as we progress. Its good. So to the final track then, called 2033. A distorted guitar gently chugs away in the intro before a jump into a nice haunting start. Clean vocals and full guitars switch then to a heavier side with vicious vocals and crunching instruments as the band look a few years to our future and where we could be by then. It's a strong album closer and one of my favourites on Kaliyuga.
Overall though, this isn't a great album. Good, yes but not great. It is too messy and there are too many components. I absolutely adore the band's inspiring efforts to be carbon neutral and also their musical message but it doesn't always translate into good songs. There are bangers. 2033, Timebomb, Hellbringer and the amazing Moving On are fantastic but I hate the noisy chaos of the two starting tracks and the indecision of some of the others. Overall Kaliyuga promises a lot and delivers just a bit. There is plenty to enjoy here and when In Hearts Wake get it right, it's brilliant but there is also plenty where it doesn't quite flow or capture my attention.
Grab a copy of Kaliyuga from all the usual streaming platforms or grab a carbon neutral physical copy from here.
In Hearts Wake Links
Website – House of Kali – Facebook – Twitter – Instagram – YouTube
Kaliyuga by In Hearts Wake (UNFD)
The Final Score -

7/10