Album Review: Kalah – Descent into Human Weakness (Pure Steel Records)
Kalah, a Sanskritic word that points out "the slight movement of the Moon, growing little by little while becoming", is also the name of this Italian-based electronic modern metal band. Relative newcomers on the scene (2020), they have kept busy.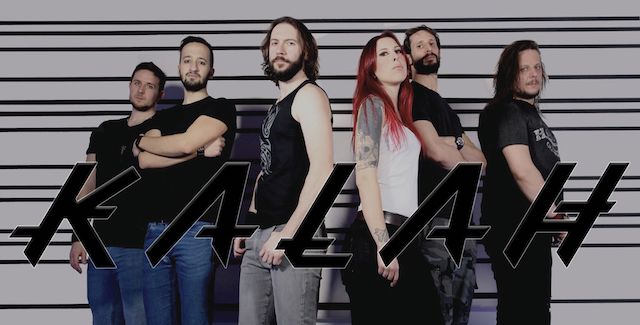 Releasing two EPs already (Descent and Human), they will now release their third EP, Weakness on August 19th, 2022 via Pure Steel Records. At the same time, they have put the complete trilogy of EPs together as one release, called Descent into Human Weakness.
A very cool aspect of this release is how it gives new listeners the chance to hear the body of work that Kalah has put out over the last two years in one succinct package. A chance to experience (in their words), the full opera.
Mantis gets things started and immediately, the modern elements that Kalah have, become the focal point. Meaning, we get an interesting blend of electronica, melody and metal that excites the senses and builds more anticipation for what follows.
Speaking of what follows, Titans of Dune is next and here, Kalah showcases just how massive and meaty their sound can be. Before Six Feet Underground pushes the electro energy to grand heights and Sand adds some welcome melodrama to events. The vocals, which have been immense so far, are even stronger here.
The modern imaginative blend continues into the animated Ejecta, one of the best tracks on the album, thanks in part to a blistering guitar solo. Talking of killer guitar solos though… Pit of Violence (P.O.V.) has arguably the album's best one, complimented by some chunky heaviness and light effects. Another absolute banger from Kalah, proving that with the first half of the complete record, the separate EPs really fit together nicely.
Red comes next and changes things up, going for a more melodic and effects heavy sound, to great results. The River then sees Kalah take a leaf out of the Babymetal playbook with the stinging effects on show here. Followed then by the frenzy of metal and electro that is the aptly titled Side Effects, the thumping and pounding Crows Calling at Night, and the energised speed of Mermaids Cry. Leading to the electrifying finale of Aphelion and the cherry on top of this huge sounding release.
There's no doubting that Kalah are going to turn a ton of heads with this release.
Kalah – Descent into Human Weakness Full Track Listing:
1. Mantis
2. Titans of Dune
3. Six Feet Underground
4. Sand
5. Ejecta
6. Pit of Violence (P.O.V.)
7. Red
8. The River
9. Side Effects
10. Crows Calling at Night
11. Mermaids Cry
12. Aphelion
Links
Bandcamp | Spotify | Facebook | Instagram | YouTube
Kalah – Descent into Human Weakness (Pure Steel Records)
The Final Score -

8/10