Album Review: Indus Valley Kings – Origin (Self Released)
Stoner, doom and metal band Indus Valley Kings are back with their sophomore album, 'Origin'. Released on June 8th, 2022.
January 2021, Indus Valley Kings release their self-titled debut. An album we described as:
Something quite different in the stoner rock/metal world. Something that is far more layered than the initial description suggests. Indus Valley Kings don't just play stoner fuzz. No, they infuse their groovy and moody sound with grunge, doom and blues. All with an exciting and delicious grubbiness. The more it goes on, the more times you listen, the more is unearthed.
We loved it (read our full review here) so the thought of stepping back into the world of Indus Valley Kings is very exciting. It's more of the same, which is nothing to complain about as they're so damn good at it. Heavy, fuzzy, grubby, rocking, doomy, bluesy and moody music that has an infectious, body-grooving quality to it.
Origin features nine tracks and some of Indus Valley King's best work to date. From the fuzzed out, psych-tinged opener of Clown. To the monstrous riffs and doomy switch-ups, groovy soloing and salacious heaviness that takes place on the gargantuan …And the Dead Shall Rise. To the long and winding, desert infused head-banger that is Dark Side of the Sun, and the faster, more energised banger that is Drowned. These are just some of the tracks that scream class and quality on an album packed with it.
An album with so much variety, so many shifts and twists, that it's not exclusively for one genre fan or another. Sure, stoner fans will probably find themselves sitting the most comfortably while listening to it but it's absurd to suggest metal and rock fans in general won't find reasons to groove and move to a least a handful of tracks here.
Comparisons to the likes of early-Sabbath, Kyuss and Corrosion of Conformity are fair but the comparisons only serve to give you a small picture of who Indus Valley Kings are. We suggested with the debut that the band had the potential of blowing up if enough people heard it. The same goes for this album, except now Indus Valley Kings have two excellent albums to offer.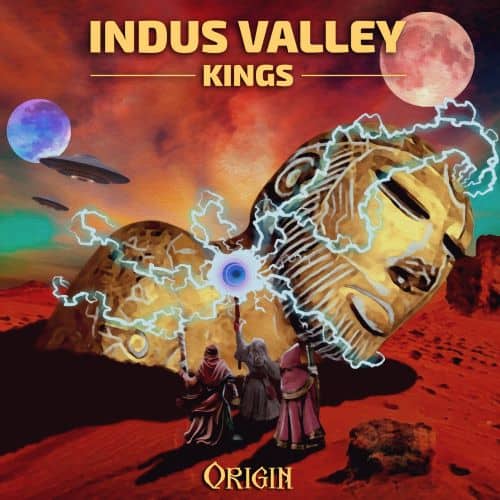 Indus Valley Kings – Origin Full Track Listing:
1. Clown
2. …And the Dead Shall Rise
3. A Cold Wind
4. Hell to Pay
5. Dark Side of the Sun
6. Mohenjo Daro
7. Demon Beast
8. Drowned
9. Sky King
Links
Bandcamp | Website | Spotify | Facebook | Instagram | Twitter
Indus Valley Kings - Origin (Self Released)
The Final Score -

9/10