Album Review: Hollywood Undead – Hotel Kalifornia (Dove & Grenade Media/BMG)
Not long after the turn of the century, a collective of friends congregated around a common vision bred in the gutters and back alleys of Hollywood, CA. Under the influence of everything from gritty nineties hip-hop to industrial metal (not to mention cheap booze), they climbed out of similar experiences in poverty and hardship and vaulted to the forefront of 21st century rock music on their own terms.
To this day, Hollywood Undead hinges on the bond of five individuals who relay such raw experiences into relatable anthems. However, the platinum-certified quintet—Johnny 3 Tears, J-Dog, Funny Man, Charlie Scene, and Danny—tell their story like never before on their seventh full-length album, Hotel Kalifornia. Due to be released on August 12th, 2022 via Dove & Grenade Media/BMG.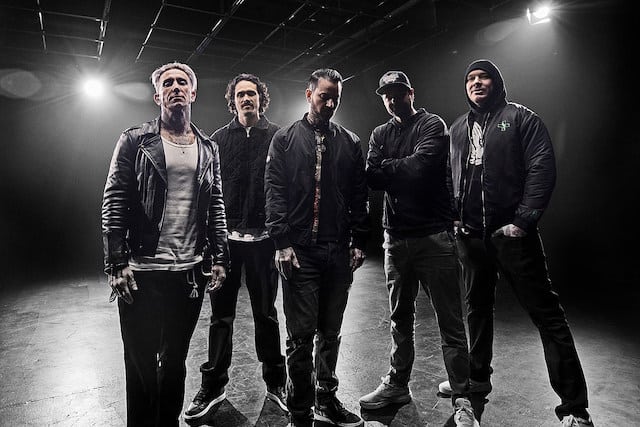 States Johnny 3 Tears:
We were in a world of shit. The opportunities for failure were far more prevalent than the opportunities for success. We were hanging out with gangbangers and drug dealers. The chances of overcoming were very slim. We made something special together because of the heartbreak and heartache that came from all our experiences.

When you listen to Hotel Kalifornia, I hope you see how far we've come. J-Dog and Charlie Scene are completely different songwriters than they were 15 years ago. I'm so impressed by everyone in the band. The only thing we give a fuck about is the audience and trying to get better on each record.
Adds J-Dog:
Hotel Kalifornia brings me back to a time when all that mattered was music. The only thing I gave a shit about was going to shows. That was it.

After all of these years, people on the outside really have a hard time believing we're still best friends. We've stayed this close even with all of the shit we've been through. Usually, bands break up friendships, but we're best friends—and we always will be.
A statement making album. Hotel Kalifornia is Hollywood Undead making it abundantly clear that this is who they are. Like it or loathe it, they are happy doing what they do and love the support they get from their burgeoning fanbase. They've survived so much already, yet here they stand in 2022, stronger than ever and better for the experience. Armed with a brand-new album that is going to please a lot of people.
If, by some chance, you don't know… Hollywood Undead are a collective that blend hip-hop, electronica, rap, rock, industrial and metal into what can only be described as the 'Hollywood Undead sound'. Hotel Kalifornia is the group's 8th studio album and is the follow-up to 2020's New Empire, Vol. 1 and New Empire, Vol. 2.
It finds Hollywood Undead on blistering form, delivering anthem after anthem.
Beginning with the aptly titled CHAOS, this opener is intense up until the chorus, which absolutely soars. World War Me and Ruin my Life come next. The former; leaning more into the rap/hip-hop side of the band and the latter, heavy on the electro. Both guaranteed to get a club floor bouncing up and down.
Hourglass is something of a nod to Hollywood Undead's passion for punk rock, where they once again deliver a chorus the fanbase will be screaming back at them at live shows. Go to War's slower tempo, powerful rapping and melodramatic touches results in another memorable listen. Before Alone at the Top and Wild in the Streets see the halfway point of the album reached in catchy and rambunctious fashion. The latter, in particular, is going to go down well with the Hollywood Undead fanbase.
Anthem after anthem, yet there are still plenty more to come. Anthems like the vibrant Dangerous, the dramatic Lion Eyes with some impressive vocal back and forth, the spitting bounce of Trap God and the eccentricity of Happy When I Die. Credit where credit is due, Hollywood Undead aren't stagnating at this point in their careers.
The fun continues into the latter portion of Hotel Kalifornia as the group deliver another raucous rock crossover tune with Reclaim. Once again, the chorus absolutely soars. Followed then by one of the album's most harmonious tunes in City of the Dead, a track that has touches of cinematic grandness. Before this triumphant album wraps up with something truly emotional. The powerful and introspective Alright. A track that has more emotion than anything elsewhere on the album but doesn't shy away from the Hollywood Undead anthemic style.
Hotel Kalifornia is going to surprise a few people. Not the fanbase, they're already in love with this band, but rather those who have dismissed Hollywood Undead in the past. Their growth is impressive and the variety in show throughout the album means there is wide appeal. If you weren't a fan before, you might find yourself enjoying this album more than initially expected.
Hollywood Undead – Hotel Kalifornia Full Track Listing:
1. CHAOS
2. World War Me
3. Ruin My Life
4. Hourglass
5. Go to War
6. Alone at the Top
7. Wild in These Streets
8. Dangerous
9. Lion Eyes
10. Trap God
11. Happy When I Die
12. Reclaim
13. City of the Dead
14. Alright
Links
Website | Spotify | Facebook | Instagram | Twitter
Hollywood Undead – Hotel Kalifornia (Dove & Grenade Media/BMG)
The Final Score -

7.5/10