Album Review – Gomorrah by Gomorrah (No Light Records)
Canadian technical death/deathcore band Gomorrah return with their second full length album. The self titled Gomorrah, released on the 22nd of March, 2019.
Their debut album, The Haruspex, came out in early 2016 and really made an impact showing the band as inventive and explosive with influences taken from across the death metal genre. Deathcore beats, speed, brutality, breakdowns, melodeath, technical rhythms, blackened vocals – Gomorrah are a bit of a mixing pot of death metal ingredients but manage to form their own signature sound out of all those elements. Sounding like a nod to their peers and not an imitation.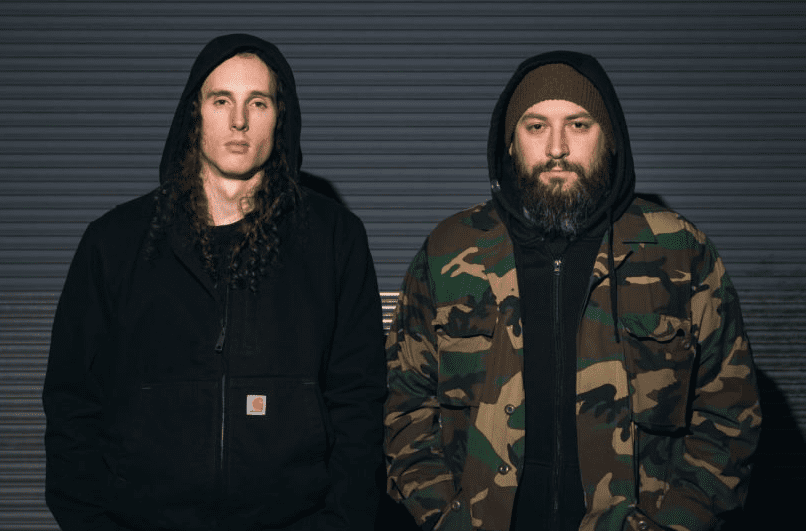 Gomorrah are a two piece in the studio with Bowen Matheson handling all guitar duties and Jeff Bryan is on vocals. Drums on this release are handled by the expert limbs of guest, Hannes Grossmann. Grossmann has been a bit of an icon in death metal hammering sounds for legendary bands such as Obscura and Necrophagist and currently for Hate Eternal, Alkaloid and Blotted Science. He also produces Gomorrah, the album.
Gomorrah is short, at just 26 minutes long and has 8 tracks on it. To be fair, the band squeeze a huge amount into that 26 minutes with plenty of time found for memorable hooks, bone shuddering heaviness and technical melody. Album opener, Ember, really sets out their stall early on. A creeping melody starts to fade in before a tidal wave of death swallows you up with deep, growled vocals, a crunching riff and blasting drums. There is a slightly off beat rhythm to the early stages of the song, adding a little bit of progressive to underly the assault. You are likely to find yourself head banging along unknowingly, especially when we hit the solo that leads into a furious rhythmic section that you can't help but take notice of.
From Earthen Ruins has a thick groove line running through its verses with more slowly delivered vocals. Little bursts of higher toned guitar wizardry add a layer of melody while the drums switches between speed blasts and hypnotic rhythm. Predatory Reich hits you with insane blasting drums in the intro coupled with a metallic stop/start riff and deeper growled vocals. At just over 2 minutes long it is a short sharp blast of death. Frailty is another short and heavy punch that descends into doom-like distortion near its end. For Those of Eld sees the band switch between vicious core punches and a strong groove. The lead guitar blazes away with higher melodic lines adding another layer to a truly complex and technical song.
The Carnage Wrought has a fading in sampled sound with restrained drums. These get joined by an excellent lead guitar that just has to be heard. This track really stands out with the band chucking a lot of their skills into the mix. Blast beat sections, sampled atmospherics, slowed down, off beat rhythms and blazing lead lines. There is a lot going on in another very technical and complex track that mostly works though occasionally becomes so busy it is hard to follow a rhythm. The Blade Itself is the penultimate track and is another of the shorter pit destroyer songs switching style and tempo between very heavy and really very heavy.
The final song is Of Ghosts and the Grave and is the longest song on the album though still not breaking the 4 minute mark. It starts off with typical force and aggression. Crunching guitar tones and powerful, quick drums but changes to a doom section with clear ringing guitar notes over a little feedback and faded drum taps. This builds in intensity until, with a squeal of guitars, we are back into a slow, heavy groove with thunderous drums and a thick, slamming bass. Vocals come back in and spit fire for the rest of the song, and the album, before 15 seconds of fading guitars bring Gomorrah to a close.
Being just 26 minutes long, Gomorrah doesn't take many steps away from death metal but they still manage to make each song standout as individual, unique tracks. They don't bleed into each other. There is no filler.It is an amazing feat really. 26 minutes that seem to fit as much in as albums twice as long. The worry with these busy, technical styles of song is that it can sometimes become hard to follow as a band spend more time shoehorning in ideas and lose coherence. This doesn't happen on Gomorrah though. Other than parts of The Carnage Wrought, where it does get a little hard to follow, Gomorrah have a clear identity and a unique sound that makes them stand out from the crowd. Definitely a band to keep a close eye on for future releases and tours.
Gomorrah is out now on all the usual streaming services. Grab a copy in a few different formats from Gomorrah's Bandcamp page here. Find out more about Gomorrah at their Facebook page, here. Be sure to give them a like/follow while you are there.
Gomorrah by Gomorrah (No Light Records)
The Final Score -

8/10