Album Review: Fleshgod Apocalypse – Veleno (Nuclear Blast)
It feels like we've been waiting many years for a new Fleshgod Apocalypse album when in reality it has only been 3. The excellent King being released in 2016 and you can read our review here. Such is the excitement surrounding the Italian symphonic death metallers that 3 years feels like a lifetime. It's all ok now though as they're back with Veleno. Their 6th studio album out now via Nuclear Blast.
Making sure we know what side of the metal bread they're buttering, Fury kicks things off in 'furious' style. As death metal as they come, speedy riffs with gargantuan hooks, filth-covered vocals, a deep rumbling level of percussion and just a hint of the extra symphonic stuff that the band are known for injecting in to their music. It's a raving mad start capped off with a very old-school metal guitar solo near the end.
It flows seamlessly into Carnivorous Lamb, so much so that at first you may not even realise it has switched songs. Here though we have a bit more focus on the symphonic and melodic elements built around a crashing and violent death metal speed. This is Fleshgod Apocalypse at their darkest and heaviest.
So far, so very good and it's about to get a whole lot better as Sugar somehow turns from a straight-forward slab of death metal into an epic of impossible proportions. Then we have the punchy stage show of Monnalisa. The operatic vocals alongside the absolutely crushing heaviness of everything else is divine. Two exciting, different and arguably some of the best work Fleshgod Apocalypse have ever put out.
We return to a more death/speed focusing with Worship and Forget with some of the best guitar riffing of the record so far. Followed by the absolutely outstanding Absinthe, an epic personified. From the frantic groove, the shouted vocals playing off the guttural, the flashes of symphonic flair…this is a lesson to all trying to copy what Fleshgod Apocalypse do. They're the masters, bow down.
Far from the most prominent element of the album, it's the keyboards that really step up in the excellently titled Pissing On the Score. Followed by the female led dark operatic ballad of The Day We'll Be Gone, both excellent tracks in their own right.
There's a great case for Veleno being not only an album of the year contender but the best album Fleshgod Apocalypse have ever produced. They're taken the best elements of all their previous work and created something extremely special here.
There is just no drops in quality for even a second as Embrace the Oblivion comes screaming out with furious righteousness for the longest and most expansive track on the album. The title track is quite the opposite, a short piece of melody before we end a phenomenal release with a really fun if unoriginal version of Rammstien's Reise, Riese and a different version of The Forsaking, off their second album Agony.
This version is slow, soft and wonderfully emotive. A fine finish.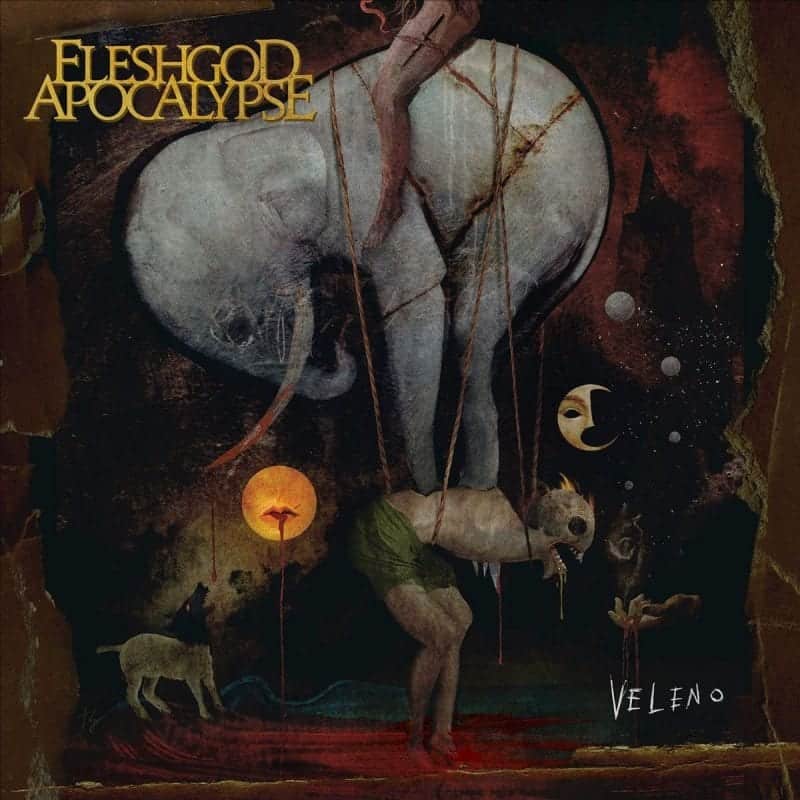 Fleshgod Apocalypse – Veleno Full Track Listing:
1. Fury
2. Carnivorous Lamb
3. Sugar
4. The Praying Mantis Strategy
5. Monnalisa
6. Worship and Forget
7. Absinthe
8. Pissing On the Score
9. The Day We'll Be Gone
10. Embrace the Oblivion
11. Veleno
12. Reise, Reise
13. The Forsaking (Nocturnal Version)
Veleno is out now and can be streamed via all major digital services with physical copies available here.
Fleshgod Apocalypse - Veleno (Nuclear Blast)
The Final Score -

9.5/10