Album Review: Eyehategod – A History of Nomadic Behavior (Century Media Records)
Legendary sludge metal band, Eyehategod return with their brand new album, A History of Nomadic Behavior. The album is a reflection of the chaos and euphoria the band experienced over the past three years of touring crossed with the past two years of political turmoil, pandemic terror and remorseless hypocrisy. It will be released on March 12th 2021 via Century Media Records.
Having lost none of their fire, Eyehategod make their studio return after a long 7 years. Time that has flown by in a blur of insanity and it seems fitting that the raw sludgy sound that Eyehategod embody should emerge from the swamps as the pandemic seems to just roll on and on. 2021 isn't proving to be any better then 2020 in that regard so far, so what better way to take out some frustration then by listening to the mucky and sticky sound of A History of Nomadic Behaviour?
It's not often you see Eyehategod take on more current issues in the world but here we have an album that will certainly have plenty of naysayers decreeing them as having gone 'political'. Which is fucking stupid as they've always been a band with something to say. Maybe not as direct as this album can be, but to dismiss the album outright because you don't necessarily agree with where the jabs are being aimed, is idiotic.
Especially as it would mean missing out on an album that is pretty great from start to finish. An album that is thick, heavy and viciously intense. Where, Eyehategod come bursting over the sandbags with a bit of hyper energy on opener Built Beneath the Lies and then take things so low and filthy with The Outer Banks. The drawling muckiness begins to seep up the legs as the guitars delve out ice cold riffs and feedback laden screams. The burst of speed near the end is the spark to wake out of your stupor.
Straight into Fake What's Yours, the vocals really step here, Mike Williams putting some real snarl into things. The stop-start guitar riffs and jerky beat make for a disconcerting listen but an addictive one at that. Three Black Eyes is another example of some of the short intensity offerings that exists here, the feedback proving to be out of control.
Which is what leads into Current Situation; the opening mesh of drums, guitar squeals that sound almost electronic and bassy thrums, quite messy. Sludgy order then comes with a cry, the start of a slow paced head-banger. Later, that same chaotic mush will return but with just a touch more hyperactivity to it. A tough track to get into but one you'll want to keep working on as it's got something addictive about it.
With deep and gooey fuzz, High Risk Trigger is a highlight and actually follows a more traditional rhythm. Before it's back to shorter intensity albeit without the frenetic pace on Anemic Robotic. Instead, chunky heaviness and attempts to explode the eardrums are in order. The Day Felt Wrong is akin to having the band right up in your face demanding you pay them every bit of your attention and The Trial of Johnny Cancer is so statement like, you can't help but listen intently to every spat out riff, hook or word.
Nearing the end, Smoker's Piece has a dark, smokey, jazz club feel with the bassy rhythm and experimental guitar tone. Only a little over the minute mark, it's very cool sounding. Circle of Nerves and Every Thing, Every Day both drop any experimentation though. Instead just submerging the mind fully under the dark waves with two thumping, feedback-laden and fuzzed up efforts.
It's a strong release from Eyehategod. One that oozes passionate intent and is delivered in their inimitable sludge metal way.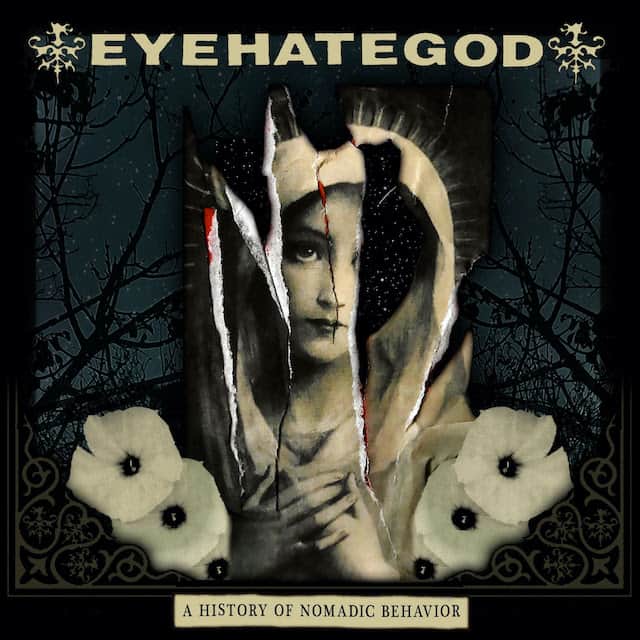 Eyehategod – A History of Nomadic Behavior Full Track Listing:
1. Built Beneath The Lies
2. The Outer Banks
3. Fake What's Yours
4. Three Black Eyes
5. Current Situation
6. High Risk Trigger
7. Anemic Robotic
8. The Day Felt Wrong
9. The Trial of Johnny Cancer
10. Smoker's Piece
11. Circle of Nerves
12. Every Thing, Every Day
Links
Album Order | Website | Century Media Records
Eyehategod - A History of Nomadic Behavior (Century Media Records)
The Final Score -

8/10