Album Review: Exul by Ne Obliviscaris (Season of Mist)
Australian extreme progressive metallers Ne Obliviscaris are proud to present their fourth album, Exul, to be released 24th March 2023 via Season of Mist.
Drum tracking for Exul started in March 2020. There is an ominous tone to that date: March 2020. The pandemic demarcation line. That month, Daniel Presland laid down his drums in Nashville, Tennessee, with American producer Mark Lewis. As flight cancellations increased and borders shuttered, Presland made it home literally hours before Australia closed theirs. Lewis, guitarist Benjamin Baret and bassist Martino Garattoni weren't as lucky. They were due to land in Australia in the days that followed to continue tracking, but were forced to remain overseas indefinitely. With recording studios shuttered throughout Melbourne, a slow, tedious, life-altering two-year grind to complete Exul ensued for Ne Obliviscaris.
What should have been the continued upward swing after 2017's critically acclaimed Urn turned into the most fraught moment of Ne Obliviscaris's career. Clean vocalist and violinist Tim Charles says the period "came close to breaking us completely." It was a time filled with death, relationships breaking down, despair and financial loss.
There are, however, happy accidents scattered throughout the creation of Exul. The extra, unexpected downtime allowed the band to fine-tune and re-write parts previously set in stone before the pandemic. Charles's violin solo at the end of "Graal" is a prime example: His idea wasn't fully realized until he revisited the song in early 2021 and promptly came up with a new part – a classic eureka moment that has vastly improved on the original version of the song.
Seven additional studios and three more countries later, Exul was finally mixed and mastered in July 2022.
Ne Obliviscaris are Xen on harsh vocals, Tim Charles on clean vocals, violin, viola & keyboards, Benjamin Baret on lead guitars, Matthew Klavins on guitar and Martino Garattoni on bass. Dan Presland recorded the drums on Exul before departing Ne Obliviscaris. Exul also features some guest musicians with additional violin on tracks 1, 2 & 3 performed by Emma Charles, additional vocals on Track 1 performed by Alana K Vocal and cello on Tracks 1 & 4 performed by Dalai Theofilopoulou.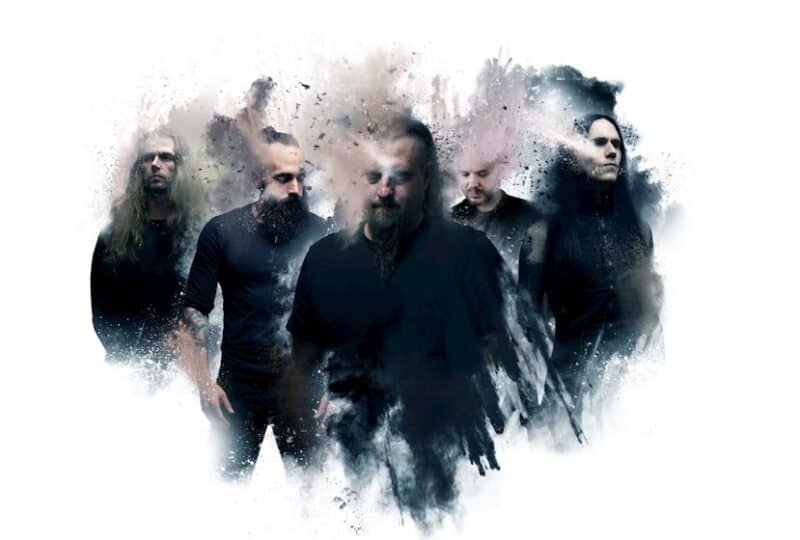 Exul comes at us with 6 tracks in total but with some lengthy ones in there starting with the 12 and a half minute long opener, Equus. A track that really showcases the massive ideas and creativity of Ne Obliviscaris throwing waves of different styles and emotions at you. Crunchy riffing, melodramatic violins, gorgeous clean vocals backed by demonic harsh vocals. A blues bass line at times, turning into a spine tingling pummel with drums that switch tempo and power with ease. Ne Obliviscaris have a plethora of talent at their disposal and throw everything into this opening track of Exul.
As well as a starting few minutes that blends the cleaner elements and violins with occasional blasts of heavy, we get bug sections full of hard hitting groove with crunchy guitars and blasting drums. All the while, the bass and violins are always there, like the glue holding everything together and ensuring transitional moments make sense. The violin, such a wonderful instrument, and so wonderfully used here, is a favourite of mine anyway but the way Ne Obliviscaris use it sometimes at the foreground, sometimes just for a harsh crash noise, sometimes gently in the background – Tim Charles is a skilled player and absolutely pivotal to Ne Obliviscaris. The 12 and a half minutes passes in moments as you easily lose yourself in the progressive wash that also happens to have a huge solo that really pulls on the heartstrings. What a way to open.
We move on with a two parter that makes up over 17 minutes of Exul's runtime. Misericorde I – As the Flesh Falls and Misericorde II – Anatomy of Quiescence. The first, As the Flesh Falls has a supremely aggressive start with huge riffs and drums blasts and vicious harsh vocals. It evolves as it goes with cleans joining in but without it ever losing that desperate, threatening edge. There is a darkness to this track, in every bass note, the vocals, the drums – it has a weighty shroud hanging over it. Even within the glorious dual violin section – you never feel quite at ease. I love it when a song provokes such strong feelings.
The violin fading transitions us directly into Misericorde II. A sorrowful start with the most gentle of drum taps as the violin plays mournfully sets the scene. A stunning lead guitar joins in the very deep feeling music eventually leading us into an increase in volume and tempo whilst still staying very deep and emotional. We stay instrumental for nearly 7 minutes of this second part feeling every feeling, then hearing a growing threat in the background. A rumble of bass, increasing drums….That patiently grows before the last few minutes bring a crescendo of aggression first with powerful roared vocals and quick drumming. The cleans join in, the violins return and lead us to the close of a double hitter of insane quality.
Suspyre comes next and we stay on 10 plus minute long tracks here. It's another expansive track mixing all the very best of Ne Obliviscaris together. Violins lead the way with a melancholic sound before backing of crushing drum patterns add intensity. It takes a sudden turn into a ferocious death metal track for a section of dark gutturals, crunchy riffing and blast beats. The punishment from the instrumentation continues with occasional sections where the gutturals drop away to allow the violin to sing. It's an interesting idea – an almost back and forth between raw growled vocals and a violin instead of the obvious two singers.
As we have seen across Exul so far, Ne Obliviscaris are masters of their craft and they blend what seems like hundreds of components together into a pretty seamless song. You would think that with all the direction changes, all the stops, starts and the like that it could feel disjointed but it doesn't. It flows wonderfully.
Graal has a wonderfully chaotic feel to it's start as we continue hitting hard with the heavy riffs and crunching rhythms while the violin screams maniacally alongside. We get that lovely mix of the heavy and clean vocals both in back and forth style and then as backing for each other. The harmonising is on point and all backed by a heavy track that will get heads banging and pits moving. Being the sort of band they are, we would never expect it to stay still for long and it doesn't moving into acoustic melody with a leading bass line. A screaming lead guitar joins the pack, then drums, then more guitars – Ne Obliviscaris love toying with your emptions and challenging your mind. Things that Graal, and Exul, do wonderfully well.
So we reach the close with Anhedonia, the shortest track on the album at 3 minutes and 43 seconds. It feels like an outro, so in that regards, it is a typically long track for this band with an outro at the same length as most other band's tracks. It's a slow, sombre affair with gentle piano melody and clean, emotional vocals. The emotionally charged violin joins in nicely leading us through our thoughts before fading out. As a song on it's own, it is nice but offers very little. Where it works is when taken in the context of the whole of Exul and seeing it as a closing of the chapter. In that, it is masterful.
Exul is yet another phenomenal piece of art brought to us by Ne Obliviscaris. A band already renowned for their intelligent craftsmanship but reaffirmed here. Exul offers a lot, whether it's pummelling metal that hits you hard, chunky bass led groove, melancholic introspective sections, chaos, order – and that all usually comes in a single song. Where the band excel for me is the fact that they throw everything, and the kitchen sink, at a song yet manage to make it flow, make it work. As an album, I felt Exul was deeply creative, deeply intelligent and I felt quite hypnotised and emotional throughout. Occasionally, gloomy but also offering rays of optimism to poke through those dark clouds at just the point I needed them.
Ne Obliviscaris continue to showcase themselves as one of the most talented and expansive bands we have in heavy metal and Exul is a fine example of their work.
Grab a copy of Exul from their Bandcamp page, here.
Ne Obliviscaris Links
Facebook || Instagram || YouTube || Twitter || Bandcamp || Patreon
 
Exul by Ne Obliviscaris (Season of Mist)
The Final Score -

9/10