Album Review: Enterprise Earth – The Chosen (MNRK Heavy)
On January 14th, 2022, Enterprise Earth, one of the most celebrated death metal bands of the modern era, return with their album, The Chosen, via MNRK Heavy (previously eOne Heavy).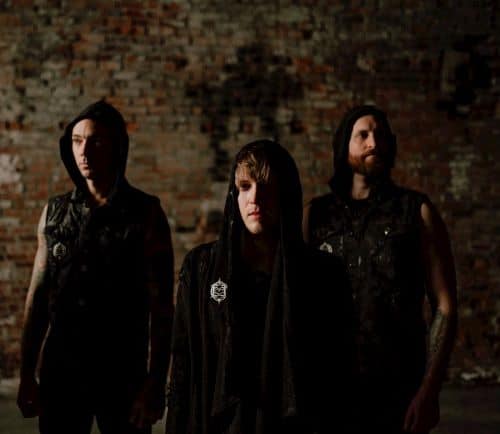 Almost 70 minutes of brutal death metal, Enterprise Earth aren't pulling any punches here. Kicking off their new album with a blistering and ballsy explosion of viciousness. Frantic and furious, Where Dreams Are Broken is one hell of an opener. The frenzy of metal met by unexpected melodies, clean singing, tons of groove and a smash-mouth breakdown.
It's the kind of start that puts you in a good mood, ready for the mountain of heavy to come crushing down on you. Reanimate // Disintegrate, Unleash Hell, I Have to Escape… banger after banger that brings such energy and the desire to just lose your mind. With barely any of the album heard, Enterprise Earth have already proven that The Chosen is going to be one of the most talked about releases this year.
After a short intermission of moody atmosphere (The Tower), the rage is rebuilt and expelled with They Have No Honor. Followed by a near 8-minute hefty hit called Overpass. A track that builds in epic fashion and transforms into a beastly blast of chaotic metal, one with a chorus that makes you feel ten-feet tall. The final portion of this track is one of the heaviest things you'll hear all year.
No rest for the wicked though as You Couldn't Save Me pounds and thumps its way into the brain. Before we get another atmospheric intermission with Unhallowed Path. Followed then by a trio of varied tracks. Legends Never Die showcasing some folk-inspired melodies. My Blood, Their Satiation bringing crunchy groove and blood-curdling heaviness. Skeleton Key being one of the more violent sounding tracks on an album that is pretty damn violent sounding.
There's no drop in momentum but the end is coming. Not before we get another gargantuan effort in the form of the title track. Over 8 and a half minutes of grandiose metal with deep and meaningful melodies. A track that captures the imagination with a perfect blend of mellow passages and vicious substance.
This killer album then ends with Atlas. A finale made up of unnerving melody and cold atmosphere. An extended outro but a chance to reflect on what has just been experienced. An album packed with so much great music, an album that demands multiple listens and an album that most will be coming back to again and again this year.
Enterprise Earth – The Chosen Full Track Listing:
1. Where Dreams Are Broken
2. Reanimate // Disintegrate
3. Unleash Hell
4. I Have to Escape
5. The Tower
6. They Have No Honor
7. Overpass
8. You Couldn't Save Me
9. Unhallowed Path
10. Legends Never Die
11. My Blood, Their Satiation
12. Skeleton Key
13. The Chosen
14. Atlas
Links
Website | Facebook | Twitter | Instagram | Youtube | Spotify | Bandcamp
Enterprise Earth - The Chosen (MNRK Heavy)
The Final Score -

9/10