Album Review: Dread Reaver by Abbath (Season of Mist)
After two years in the making, Abbath return with their 3rd full length, Dread Reaver, due out on the 25th of March via Season of Mist.
The ravens gaze ominously from above. The seas roar in anticipation. The mountains creak yet again. Abbath's remarkable new album, Dread Reaver, is upon us all. Dread Reaver is described as a fusion of debut Abbath (2016) and follow-up Outstrider (2019), the aptly titled Dread Reaver. Two exceptional black metal albums and, with such a pedigree, you would fully expect another classic from Dread Reaver.
Abbath was formed by Olve Eikemo (aka Abbath) in Bergen, Norway, in 2015. After splitting with vaunted extreme metallers Immortal, he set out on his own journey with Abbath. Once Eikemo was free of his shackles, he was able to assemble a cadre of like-minded conspirators for his solo debut album, Abbath. So crucial was Abbath that the Norwegian Embassy in the UK ran a music/culture piece, while in Norway, the album was nominated for a Spellemannprisen (Norwegian Grammy). Metal Hammer Germany even gonged Abbath with its Best Debut award. Follow-up album, Outstrider, was equally lauded. Billboard's coverage sent shockwaves through the rock/metal scenes, while Kerrang! labelled it "dominating and creative," awarding it 4Ks. Decibel also heaped praise on Outstrider, giving it the Best New Noise trophy. The new album Dread Reaver will surely, once again show Abbath as the leaders of this scene.
Dread Reaver sees the Abbath line up change slightly from previous albums with Abbath looking after guitars, bass and vocals, Ukri Suvilehto on drums, Ole André Farstad on lead & acoustic guitars and Mia Wallace on bass on Acid Haze, Scarred Core, The Deep Unbound & Dread Reaver. Dread Reaver was produced by Endre Kirkesola, Abbath, and Dag Erik Nygaard at Dub Studio in Kristiansand and Bergen Lydstudio, respectively. Kirkesola and Nygaard also engineered the album. Mixing was performed by Abbath and Kirkesola, while the mastering was done by maestro Maor Appelbaum (FAITH NO MORE, ROB HALFORD) at Maor Appelbaum Mastering in Los Angeles.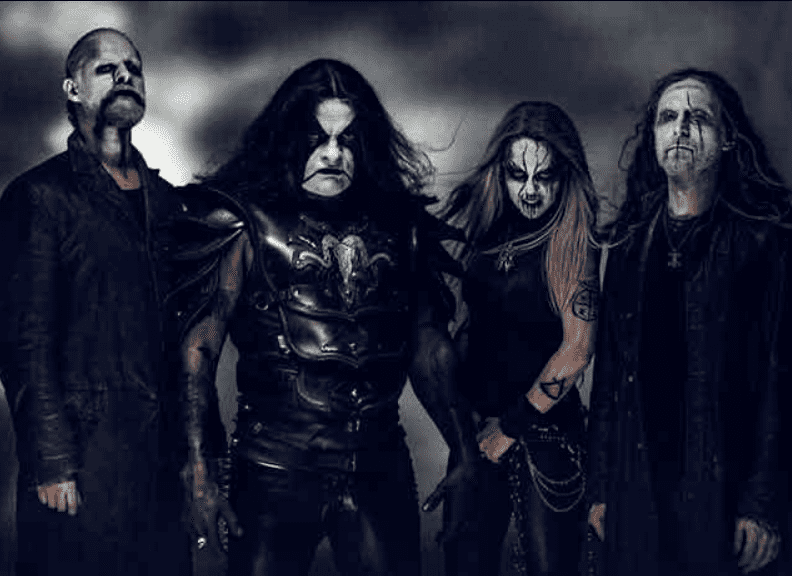 For the most part, you kind of know what to expect from an Abbath album. I am not expecting anything overly surprising, just some top quality, heavy as hell and raw black metal. And that is what you get. I don't mean that in a negative either. It is so important for our music to have those bands out there twisting genres, experimenting and moving things forwards but nothing comes from nothing and these foundation bands are the sturdy platform that enables others to take risk. And it would be unfair to to listen to the likes of Abbath and say they don't grow or evolve. They do but just in more subtle ways and more often within their genre confines. For example, don't come here looking to see if Abbath has a ballad or a sudden rap verse, he doesn't (thankfully).
Instead what we get is uncompromising and vicious black metal but with a nice production and lead guitar sections that show a modern edge to the devilish sounds surrounding them. Acid Haze kicks us off and starts with a typically bleak sound. Crushing raw drums and riffs creep up on you before a layer of blazing lead guitar kicks things off. This brings us into Dread Reaver and starts an onslaught of excellence. Scarred Core sees Abbath spit out vocals at mesmerising speed and ferocity with little vocal switches that, dare I say it, get close to singing. The lead guitars are really prominent so far in Dread Reaver and add a layer of additional intensity over a smothering blanket of drums, bass and growls.
Dream Cull lulls you in with a morose melody before exploding into a wicked rhythm that will have your head banging rapidly. It's bassy and clever structurally. Verses that see the guitars drop out to leave Abbath and the drums hammering out an almost chant like section before bang, in come the guitars again. Still black metal, still heavy as hell but subtle and intelligent ideas that keep Abbath evolving and it is awesome to see. Myrmidon keeps the necks hurting with a grooving rhythm that oozes darkness and intensity. The chorus is actually bloody infectious and has a bit of an epic feel to it. I can see myself thrusting horns high into the air at a live performance before the crushing instrumental section and glass shattering roar would see the pit descend into a chaos.
Other tracks like The Deep Unbound and Septentrion really echo the traditional roots with a cold and mountainous soundscape. Fuzzy production, ripping vocals and intense riffing really hammering you, especially in the bleak and brilliant The Deep Unbound. Septentrion is similar but with a slower, repeated thump and a wicked solo to break things up.
That is followed by a cover of Metallica's Trapped Under Ice. This is a misstep for me. It's a good cover and Abbath certainly blacken it up immensely. I would go as far as to say, I think it is an awesome cover but this is the sort of thing best left as a bonus track at the end of an album. Putting it in the middle of your album seems a bit of a cop out and would be better replaced with an original Abbath song. It alos really throws off the message or flow of your own album.
Back to the Abbath stuff then next with the penultimate track, The Book of Breath. It takes a little getting in to purely because my attention has been massively diverted into Metallica now. Thankfully this song is so damn good that within a minute I am back on top of a cold wintry mountain feeling warmth only from the the fact that I can't stop headbanging along. The riffs are excellent, really chunky and really full. The drums are hypnotic and the guitars blaze out fiery strands all over the place while Abbath huskily roars out aggression. A melancholic slow down surprises me but is welcome, especially backed by Abbath's husky whispers.
And so the journey concludes, with the title track, Dread Reaver. While there is nothing sparkling new on Dread Reaver, it is the very best of Abbath rolled up into a single track. The riffs are cold and suffocating, the cymbal heavy drums crash like thunder around you and Abbath growls manically, and occasionally in a pretty clear, almost clean vocal tone that reminds me of Lemmy. It's exciting and engaging, constantly holding your attention. The spoken word (devilish in tone) section backed by screaming leads is magical  and to top it off, the chorus is infectious and memorable. A wicked and wonderful way to close out the album.
And what an immense album it is. Typically Abbath, typically black metal but Abbath isn't afraid of testing new ideas out and while there is nothing overly ground-breaking going on here, there is enough in the tempos, the lead guitars and vocal tones to fulfil all your traditional needs and modernise as well. In a way, recent Abbath music leads the way in finding that hallowed spot to please the traditional crowd yet allow yourself to evolve and modernise. Dread Reaver is heavy, cold and cruel in sound but manages to somehow also be fresh and exciting at the same time. Dread Reaver is an accomplished showing, full of darkness, grit and intensity and a further reminder that the likes of Abbath have longevity because they are masters of their craft.
Grab yourself a copy of this latest Abbath masterpiece from Season of Mist, here.
Website – Facebook – Instagram – Bandcamp – Twitter – YouTube
Dread Reaver by Abbath (Season of Mist)
The Final Score -

8/10