Album Review: Dirge – Vanishing Point (Division Records)
Two years after putting an end to a 25-year career punctuated by seven albums, one EP and a handful of demo tapes, Dirge finally unfolds its final testimony, christened "Vanishing Point". A retrospective collection of unreleased and rarities that traces the sonic evolution of the band, from the original mid 90s industrial rusts to the granitic post-metal of its epilogue "Lost Empyrean" in 2018, through the progressive monoliths of the 2000s.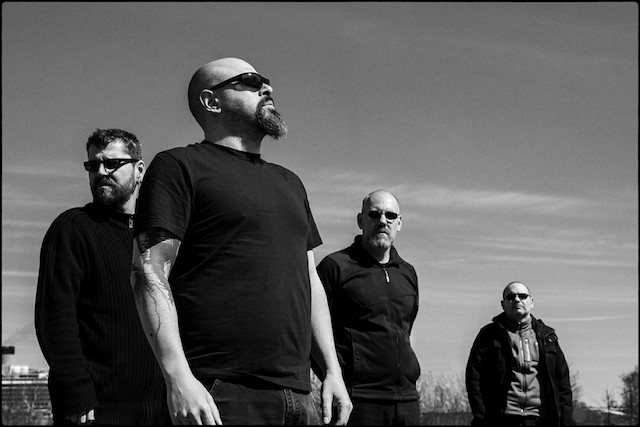 The chronological order helps recontextualize each song in its time, as well as putting it in the band's own history. Thus, the 15 non-album tracks which constitute the corpus of "Vanishing Point" revisit every period, every record, every line-up through previously unpublished material (albums outtakes, special recordings, remixes) and hard-to-find pieces (demos, bonus tracks, compilation appearances). In addition to this extensive compendium (complemented with two exclusive reinterpretations by Kill the Thrill and Treha Sektori) comes Spiraling Skywards, a performance captured in Paris in 2005, the first and sole live document in Dirge's discography.
Vanishing Point will be released on March 26th, 2021 via Division Records.
Has it already been two years since Dirge wandering into the ether?
The ultimate collection for Dirge obsessives, set a few hours aside as there is a lot to get through here. Almost 2 hours and 50 minutes of music, absolutely nobody is getting short-changed here.
If you're unfamiliar with Dirge, their brand of post-metal is loved and lauded all over the world. However, while this is a unique collection it's not recommended as a starting point. Simply because it's not a 'best of' or 'greatest hits'. It is as described above; rarities, unreleased tracks, remixes and live versions.
This does make for a seriously hit and miss listen but something that is uniquely fascinating. What is heard here, is obviously Dirge but often unpolished or experimental and always interesting. From the weird industrial sound of Wounded Chakras to the chilling post-metal with a slathering of doom that is The Coiling to the downright uncomfortable buzzing effects and sounds of Sine Time Oscillations. Never uninteresting, always intriguing, often intruding… mentally.
Arguably the tracks that many are really going to seek out are the two remixes and two live offerings. All four tracks coming in the later portion of the release. Incendiary Dreams (Empyrean Reconstruction By Kill The Thrill) and Hosea 8:7 (In The Hands Of Treha Sektori). Two very exceptional takes on two Dirge classics.
As for the live tracks? They could make up a release on their own. Epicentre, from 2007's Wings of Lead Over Dormant Seas, coming in at a second over 13 minutes. The Endless, from 2004's And Shall The Sky Descend, coming in at just short of 29 minutes. Wow. Easily the highlights of the release as seeing Dirge is little more than a pipe dream.
A monumental release that all Dirge fans should own. No question.
Dirge – Vanishing Point Full Track Listing:
1. Wounded Chakras
2. S.N.T.D.F.
3. Bastard
4. East
5. The Coiling
6. Submarine
7. A Short Term Effect
8. Sine Time Oscillations
9. Meure Menace (Dirge Remix)
10. Below (Twist Of The Knife)
11. Absence
12. Distance
13. À Rebours
14. Absence (Откровение)
15. Carrion Shrine
16. Incendiary Dreams (Empyrean Reconstruction By Kill The Thrill)
17. Hosea 8:7 (InThe Hands Of Treha Sektori)
18. Epicentre (Live)
19. The Endless (Live)
Links
Website | Bandcamp | Facebook | Division Records
Dirge - Vanishing Point (Division Records)
The Final Score -

7/10