Album Review: Cutterred Flesh – Sharing is Caring (Transcending Obscurity Records)
Czech brutal death metal band Cutterred Flesh give birth to an album of savagery. Called 'Sharing is Caring', it will be released on December 3rd, 2021 via Transcending Obscurity Records.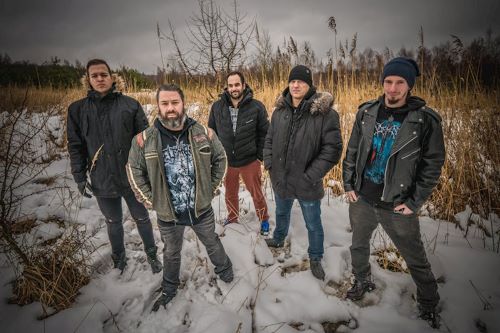 With absolutely no pretences about them, Cutterred Flesh play brutal death metal as hard and as heavy as possible. An eight track (or nine if you get the bonus track version) album of crunching instrumentation and grotesque vocals. Sickening?
You might not be as disgusted by the abomination that Cutterred Flesh have birthed here as you might expect. Oh sure, it's a fleshy, ugly and violent little bastard, but it's so damn lovable. Especially when it grins at you with sharpened and bloody teeth.
It bites, so be careful.
Cutterred Flesh have a singular goal here and it seems to be to wreck heads. Although they are taking a tongue in cheek approach with some of the track titles, the musical acumen is deadly serious. It shines through, as every so often, they take a moment to surprise with touches of melody and slower rhythmic passages. These moments are brief though as the major focus is always to rip and tear through the soft underbelly of their victims.
Fans of brutal death metal will happily be Cutterred Flesh's victims.
Cutterred Flesh – Sharing is Caring Full Track Listing:
1. Vibrio Vulnificus
2. Black Aurora
3. Where Only Old Flesh Stinks
4. Good Boy – Romantic Relationship with Necrotic Tissue (ft. Von Young of Lividity)
5. The Mystery of The Black Hen
6. Amused by The Tenacity of A Dying Whore
7. Knife Is Not the Enemy
8. My Favourite Bodybag
9. Progressive Body Adjustment (Bonus Track)
Links
Bandcamp | Facebook | Transcending Obscurity Records
Cutterred Flesh - Sharing is Caring (Transcending Obscurity Records)
The Final Score -

7.5/10