Album Review: Craven Idol – Forked Tongues (Dark Descent Records)
Old school stalwarts Craven Idol celebrate their 15th anniversary with their third opus Forked Tongues. Swearing by the gods of old, the North London veterans further hone their unique blend of old school extreme metal.
Dark Descent Records will release Forked Tongues on CD, vinyl, cassette and digital formats on July 23rd, 2021.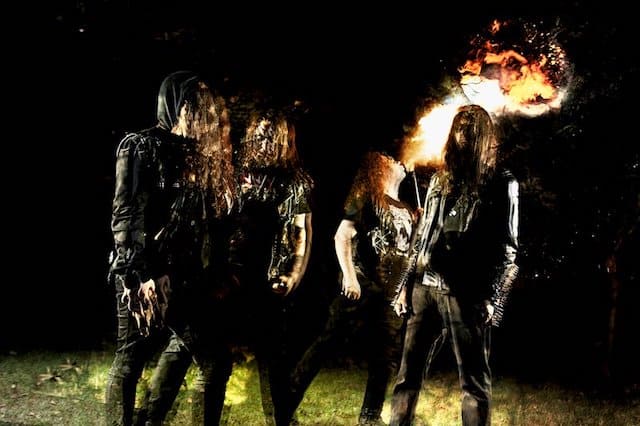 Says founding member Sadistik Wrath:
After spending a month on the road with Mystifier, we are a closer-knit unit than ever before. There's a good reason for this being the longest standing line-up in our fifteen-year existence. The entire band lived and breathed this record in the months preceding the studio, and the performances delivered by each member are testament to their dedication to untarnished extreme metal of old. 'Forked Tongues' is a vicious and concerted tribute to folly of mankind. In these godless days of Sodom, craven idols are in their element, wheeling and dealing, beckoning you to follow their treacherous causes. The apocalyptic legends of ancient Greece read like unholy divination… and it is from them that we drew the subject matter for the record.
There's a cool concept behind Forked Tongues as it acts as sequel to the Greek mythological tale surrounding Typhon and its failed battle with Zeus. Typhon has escaped and looks to do battle with the ancient god once again.
Told through the medium of roaring and thundering thrash and death metal, Craven Idol bring the destruction crashing down with Venomous Rites and The Wrath of Typhon. Blistering riffs, booming drum beats, distressing bass and unrestrained, rasping vocals. Craven Idol make it clear just who and what they are on this opening pair.
Uncomplicated but constantly playing at a hyper tempo; Iron Age of Devastation is thrashy chaos, Even the Demons… is extreme heaviness that oozes utter darkness and the title track has Craven Idol busting heads with contemptuous brutality.
That straight-forwardness makes the final pairing of Deify the Stormgod and The Gods Have Left Us for Dead all the more surprising as both tracks pass the nine-minute mark. Up first, the former with its thundery and epic heaviness that just beats you into submission through a battling bout of metal. The latter, a momentously dark track that has an air of finality about it while being true to Craven Idol's unbridled aggressive way.
Craven Idol – Forked Tongues Full Track Listing:
1. Venomous Rites
2. The Wrath of Typhon
3. Iron Age of Devastation
4. Even the Demons…
5. Forked Tongues
6. Deify the Stormgod
7. The Gods Have Left Us for Dead
Links
Facebook | Instagram | Dark Descent Records
Craven Idol - Forked Tongues (Dark Descent Records)
The Final Score -

8/10