Album Review – Chicanery by Hesitation Wounds (Deathwish Inc.)
Hardcore punk supergroup, Hesitation Wounds, have released their latest full length album called Chicanery via Deathwish Inc.
The American group is made up of iconic names from the hardcore and punk scene. Jeremy Bolm (Touché Amore) is on vocals and Neeraj Kane (The Hope Conspiracy/The Suicide File) is on guitars. Stephen LaCour (Trap Them) is on the bass and Thomas Cantwell (Gouge Away/Axis) recently joined on drums. Cantwell replaced Jay Weinberg (Slipknot) who left the band this year.
Chicanery is Hesitation Wounds second full length and follows their 2016 release Awake for Everything and their debut, self titled EP from 2013.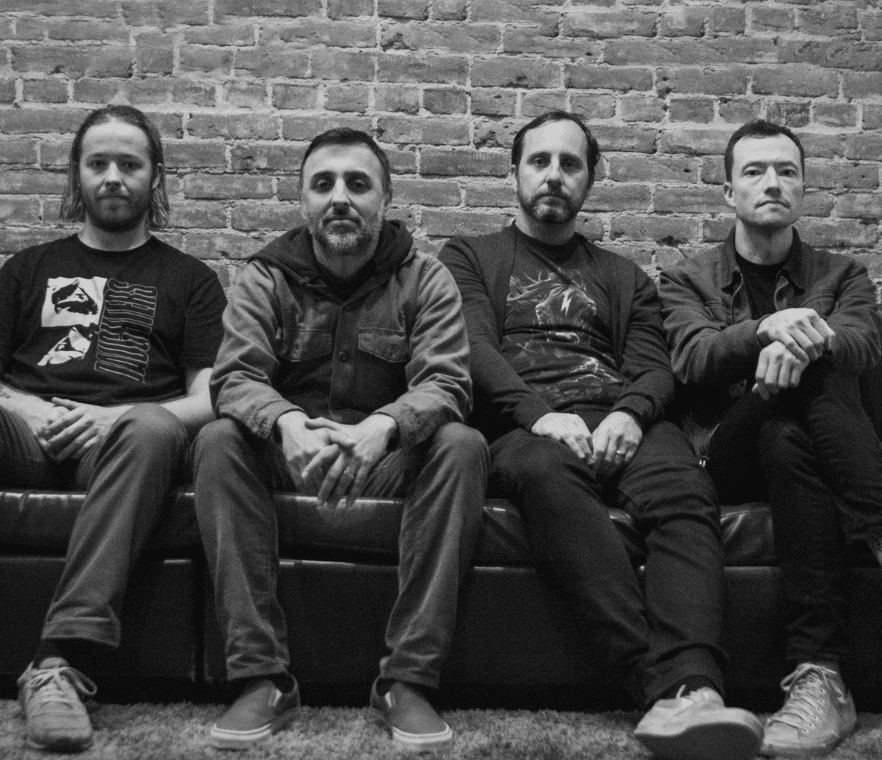 Chicanery is a very short blast of aggression with 7 songs on it weighing in at only 12 minutes long in total. It's ridiculously short for something billed as an album. Despite that though, it's a solid 12 minutes of anger and raw emotion. Apparently all recorded and written in just a couple of days, it's an on the spot outpuring of anger at the social and political issues we face today.
Musically, there is a good mix of tones and rhythms. It's not what you would expect which may be just 12 minutes of noise. You get a slow, doom start with the 43 second album opener Viewing (Pt 2) with drawn out guitars and thick bassy lines. The aggression comes full force as it transitions into track 2, Paragons of Virtue. The speed and energy is unreal as Bolm spits his heart out at pace. There would be some serious spin kicking going on in this one. Charaltan F**k keeps the aggression up but with a riff that hooks you in and makes you want to get involved as Bolm screams "It Makes Me Fucking Sick".
Trending somehow turns the aggression up even further. I didn't think it went much further but it seems Hesitation Wounds have found that mythical number 11. The speed is nuts and the lyrics are on point as he swipes at the media, social and otherwise, and our inability to see the truth. Just wait for that drop into groove near the end too. Damn, that is sweet. At Our best When We're Asleep is a fine song. A fast but catchy riff drive sit onwards with quick drums and a heavy bass. Vocals are a little slower so you can clearly pick out the important lyrical content amongst the nice, slowed down groove and rhythmic drumming.
Hellevangilist speeds things back up again but with a higher guitar melody than used thus far. There is a quick and angry pace to everything and a massive drop into a bass and drum solo which gets your head nodding along. The album ends with Ends (Pt 3) and again offers something a little different returning to the doom like sound used in the intro. The guitars and bass are really thick, low and fuzzy. Even when the vocals come in, it still satsy slowed down and heavily distorted. The guitars are amazing on this one with a really full, really dirty sound all the way through to the albums end.
Chicanery, as a powerful statement and a piece of art is phenomenal. The physical representation of how a person is feeling. His outpouring of despair and anger laid down on record, in a couple of days, for us all to hear. That is amazing and deserves huge appreciation. Musically it is sound too with an impressive amount of variety squeezed into the 12 minutes. Doomy tone satrt and end the album with a middle full of a mixture of groove and raw, full on aggression. Lashings of bass and seriously impressive drumming all form the perfect background music for the lyrical outpouring.
The only negative comes from the length. At 12 minutes long, it's just too short to be fairly called an album. Hell, the first song I played after this album, by a band called Hope Drone, was just under 14 minutes long alone. Maybe that doesn't matter though. I'm honestly starting to second guess myself. You get accustomed to what you perceive to be fair or unfair album lengths commercially. How much bang you get for your buck! Perhaps we need to re-evaluate that. The length shouldn't be important at all. It is the content that matters and Chicanery delivers on that, and more. Thois is a really impressive, and very real album that has left me feeling quite introspective. Now that's music.
Chicanery is available now on all the usual streaming platforms. You can also grab a copy from Hesitation Wounds on Bandcamp, here.
Hesitation Wounds Links
Bandcamp – Website – Instagram – Facebook – Twitter – Deathwish Inc
Chicanery by Hesitation Wounds (Deathwish Inc.)
The Final Score -

10/10