Album Review: Caustic Casanova – God How I Envy The Deaf (Magnetic Eye Records)
Relentless road-dogs Caustic Casanova will release their new album, God How I Envy The Deaf, on October 18th via Magnetic Eye Records. The record lands after a nearly two-month cross-country tour and only weeks prior to another trek in support of the confident collection of singable riff-punk anthems, establishing yet again that this band won't be held to any sort of predictable musical path nor many nights sleeping in their own beds.
Since forming as teenagers at the College of William & Mary in 2005, Caustic Casanova have weathered lineup changes and life-threatening injuries while maintaining an aggressive DIY touring ethic, and their eclectic sound has made them a favorite in a crowded scene.
Following drummer/vocalist Stefanie Zaenker's recovery from wrist injuries that nearly ended her ability to play, the band the band released the critically acclaimed LP Breaks in 2015 on Kylesa's Retro Futurist Records, as well as a trio of EPs between 2013 and 2018 that paired original songs with classics from Pentagram, the Melvins and Weedeater. This hard work led to nominations for multiple Washington Area Music Awards in 2019, as well as a deal with Magnetic Eye Records to release the much-anticipated new album.
What we have here is something unexpected. Something unusual but something very memorable. God How I Envy the Deaf has all the snark and snarl of punk yet it's wrapped up in a prog style that befuddles and much as it delights.
Let's get this clear from the start. To really appreciate just what Caustic Casanova have done here you're going to have to give the album some serious time. At 50 minutes long, it's an investment already but that time and the following plays allows focus on the many, many intriguing moments throughout.
Simply put, it's a complex journey and that will be clear from the moment Fancy English gets going. Hopefully it compels most to keep on listening.
It's should as it's a fantastic trippy number that pushes and pulls the rhythm around like a piece of elastic. Then Filth Castle goes even further with Caustic Casanova's attempt to unbalance the listener with hyper injections of pace warped around their rawer garage sound. Another wonderful piece of music.
The groove of the riffs makes If Your Brain Is Properly Oiled stand out for the right reasons. Memory King is unforgettable and a great example of those moments on an album where a certain part, hook or beat will just get lodged right in the brain causing all kinds of itching. Donut and the Golden Hen is one of the shortest track on the album and has a very punk-rock vibe to it. A nice change of pace even if it's probably the least exciting moment on the record.
Take a breath, cause it's not over yet. Not by a long shot.
As mental exhaustion begins to set in, Caustic Casanova inject energy directly into the brain with the catchy oddity that is Taos Lightning. The strangeness offset by the the following eerie guitars and hard rocking edge of Truth Syrup. Forget tiredness…this is an album few will actually want to end.
It's with two big ones that it does though. The first, Roger B. Taney which features additional vocals by Emily Danger is one of the more morose tracks on the album. Not in pacing or energy wise but rather the darker riffs and more melodic singing. The second is a 10-minute finale that takes us deeply down the rabbit hole of Caustic Casanova's mind.
There isn't much like this around at the moment. The unique flavour of this album won't be to everyone's palate but many, us including, won't be able to stop coming back for more.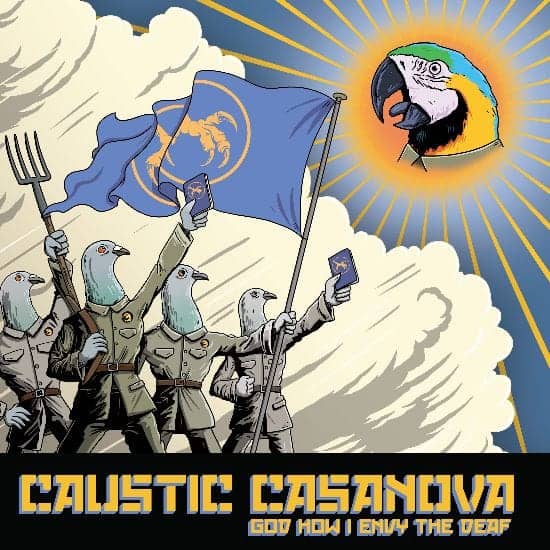 Caustic Casanova – God How I Envy the Deaf Full Track Listing:
1. Fancy English
2. Filth Castle
3. If Your Brain Is Properly Oiled
4. Memory King
5. Donut And The Golden Hen
6. Taos Lightning
7. Truth Syrup
8. Roger B. Taney (Feat. Emily Danger)
9. Boxed And Crated
Links
Website | Bandcamp | Spotify | Facebook | Twitter | Instagram | YouTube
Caustic Casanova - God How I Envy The Deaf (Magnetic Eye Records)
The Final Score -

9/10