Album Review: Bury Me Beneath This Rotting Earth by Body Void (Prosthetic Records)
Bay Area, New England doom masters, Body Void, return with the wonderfully titled Bury Me Beneath This Rotting Earth, released via Prosthetic Records on the 23rd of April, 2021.
Bury Me Beneath This Rotting Earth is the third full length album from Body Void. It follows 2018's I Live Inside A Burning House and 2016's debut effort, Ruins. It is fair to say that Body Void have rapidly earned themselves a ton of respect and seen them labelled as one of the most exciting bands in the sludge/doom genre. Body Void look to continue that upward momentum with this latest release. The band are a talented two piece with Eddy Holgerson on the drums and Willow Ryan on guitars and vocals. Not for the faint hearted, and probably not the best band to listen to if you have never tried doom, Body Void are a powerful duo with complex and expansive ideas displayed across lengthy jaunts into the rawest and darkest forms of doom metal.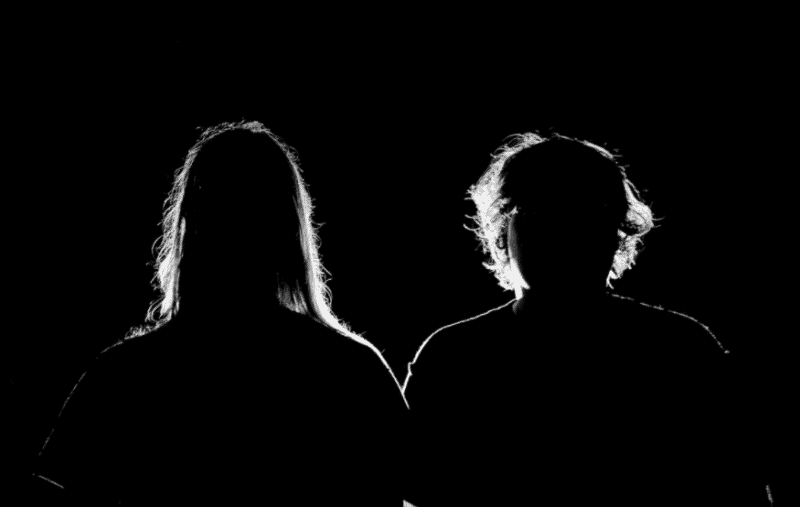 Despite a 52 minute run time, we have just 4 tracks to get stuck in to. We get underway with Wound, a 13 minute long journey through filthy distorted riffs and muddy drums. It's intro is painfully teasing with lengthy drawn out notes hitting hard when they do arrive. The vocals are raw and shouted at a higher tone than the music creating an interesting contrast. Still, the rumbling bass hits hard with occasional bursts of feedback being the only relief from the weighty cloud enveloping you. The tempo switch that comes a third of the way through is welcome even if short lived.
Overall the song has an impact and it's hard to explain quite how filthy it is in words. This is definitely not entry level sludge/doom though and, being a genre I don't adore, I found the 13 minutes a bit of a struggle to stay focused for.
Laying Down in a Forest Fire comes next and by it's start, you could be forgiven for thinking it was the same song still. A genius little riff in the intro is the distinguishing feature before we get back to the slow crunch and punchy drums. Punchy in weight and tone only because mostly we seem to be hitting a drum every 5 or 6 seconds. The vocals still offer that higher contrast and despite me not swooning over this sort of metal, I bet this would sound insane in a small, cavernous venue.
Ah, gigs…….Sorry. Back to Body Void and we do get a couple switch ups that massively elevate this track for me and make the slower pets worth the wait. The building lead guitar repetitive melody over a thick bass line and slow drums sounds absolutely amazing. I love how each section ends with an increase in tone until you feel surrounded by it all. The fast, thrashy ending is neat too and I reckon even the drummer had a small sweat on.
On with Fawn then and then huge, dirty sounds continue to wash over you. I really do like the vocals and how the higher shouts work with the sludgy tones. A sudden burst of feedback and slow down of drums makes you feel like an explosion is coming. It doesn't though and we continue on with the dark and dirty music. Then unexpectedly we launch into a phenomenal burst of guitars that I live partly because of the guitar tones but also as a break from the overall song tone. That's what I do live about sludge/doom- how the repetition lulls you in before they slap you upside the head with something unexpected. I just wish there were more surprises though the ending brings in a rocking riff with a quick drum beat you could genuinely mosh to.
And so we close with Pale Man. A whopping 14 minute track. Like all that came before it, the filthy tones hit hard and feel like they penetrate your core. The vocals are great, full of fire and fury and contrasting the painfully slow beat. Like everything that came before, it is filthy to listen to with dark and sombre sounds penetrating every fibre of your being. It hits hard, in slow motion a lot of time, but still hard. I couldn't honestly say I love listening to it but I do appreciate it and it feels somewhat more like an experience almost. Like Body Void have captured negative emotion on record and how cool is that!
Body Void are clearly experts at what they do and Bury Me Beneath this Rotting Earth is a weighty and dark effort that will have the doom/sludge fans of the world creaming their pants. That's really all there is to it. If you like this genre, this album is one of the strongest examples of it in recent years. If you don't, it's going to be a struggle. I sit on the fence a bit with sludge and doom. Occasionally I find something I love, mostly I get bored quickly. I felt there was enough here to stop me being bored and the switch ups kept me guessing so that's great. Weirdly, I keep thinking how I would love to see this live while I would probably never or rarely listen to it again otherwise.
Let's not end on a sour note because this is an amazing album full of skill and oppressive and dark metal and it is well worth checking out. The biggest appreciation will come from those already in deep with the doom genre, but there is more than enough to at least pique the interest of everyone else.
Bury Me Beneath This Rotting Earth is out now on all the usual streaming platforms. Why not head to Bandcamp and support Body Void by purchasing a physical copy from here.
Body Void Links
Bandcamp – Facebook – Twitter – YouTube – Prosthetic Records
Bury Me Beneath This Rotting Earth by Body Void (Prosthetic Records)
By Artist: Body Void
Album name: Bury Me Beneath This Rotting Earth
The Final Score -

8/10