Album Review: Burn In Hell – Disavowal Of The Creator God (Reason and Rage Records)
Australian East Coast five-piece Burn in Hell first burst into the scene back in 2018 with their savage and chaotic debut LP "Humanity Plague". Comprised of current and former members of Vice and Amends, they choose to stand up for their beliefs with lyrics that address social and political injustices crushing contemporary society and to this day this vision remains uncompromised. Drawing musical inspiration from hardcore and metal heavyweights such as Harms Way, Cult Leader and Converge, Burn In Hell have already carved out a name for themselves as one of the heaviest and most politically charged acts around.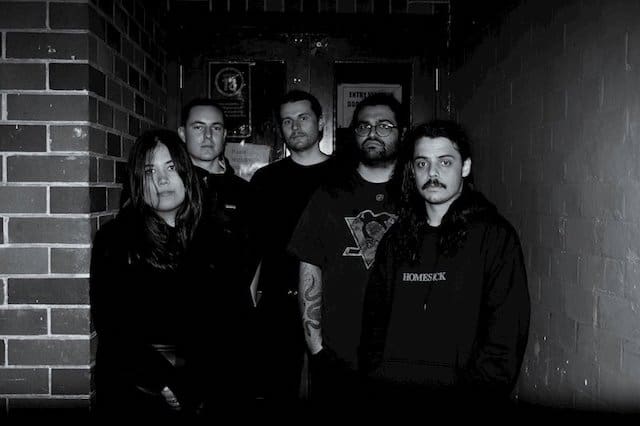 Drummer Marcus Tamp comments:
Growing up in the church you're somewhat blinded and brainwashed to the true oppressive nature that comes from the governing bodies which trickles down to the local Christian communities. Over the past few decades, the majority of our countries Prime Minister have identified as Christian and have brought their Christian "values and morals" with them, further intertwining religion and state.

A lot of this record focuses on the hypocrisy and disgusting postures held by the leaders of the corporate church and this country, and how we continuously build oppressive systems to further the divide making gender, queer and racial liberation almost impossible.

Our last record focused a lot more on a personal discourse we had with social issues and people abusing their power to hurt or gain power over others. This record is definitely a broader and more mature snapshot of the rage and hatred that fuels this band.

Musically we pushed this record to be something more accurate to the bands we worship. While it still has ignorant mosh riffs, we worked a lot harder at collectively writing something that we would stop and listen to. We still love and draw influence from bands like Harm's Way and Foundation but we definitely focused on listening to a broader spectrum of meal and hardcore going into writing this record. Bands like Converge, Friendship and Cult Leader played a huge part in building this record.
Disavowal of The Creator God will be released on the 6th August 2021 via Reason and Rage Records.
The angriest and most intense record of 2021? It's a very strong contender, especially as it's such a short and sharp shock to the system. All tracks but one come in at under 2:45 and in a couple of cases, around the 2 minute and under mark.
A frantic and feverish blend of hardcore, extreme metal and ruthlessness. Burn in Hell come crashing out, create a shell-shocked environment and disappear just as fast. The only thing left to do is press play and let the force hit again and again and again.
It's hard to identify just what the fiercest part of this record is, such is wave of heaviness that crashes over and over again. The guitars are beastly, the drums deliver a drubbing and the vocals are stomaching churning and throat tearing in their intensity. Even if you can't handle it, it's over before you know it.
Most who hear it won't be able to resist giving it many, many plays though. It's top quality extreme with a ton of things to say. No punches pulled, exactly as it should be.
Burn in Hell – Disavowal of The Creator God Full Track Listing:
1. Bound
2. Cathedral
3. Bleach
4. Prey
5. Deadkkkop
6. Disavowal
7. Armageddon
Links
Bandcamp | Facebook | Reason and Rage Records
Burn In Hell - Disavowal Of The Creator God (Reason and Rage Records)
The Final Score -

9/10