Album Review: Bloody Hell – The Bloodening (Rockshots Records)
Formed to cause confusion and fear in people who don't understand what heavy metal is about, Helsinki, Finland's Bloody Hell (ft. members of Moottörin Jyrinä, Metal De Facto) have been wowing fans around the globe with their loud, unapologetic, speed demon tyranny for two decades.
Known for their drunken wild shows, the band has always presented good times in the circle pit with anthems about drinking, hangovers, devil-worshipping among other important matters.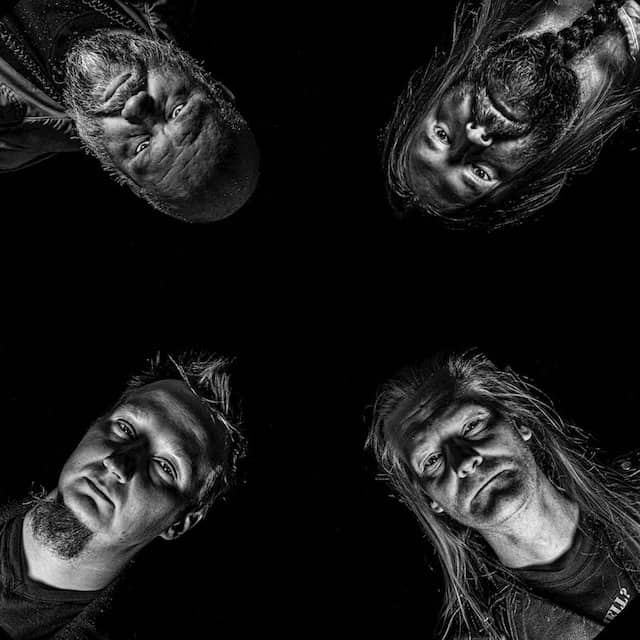 Taking a hiatus after releasing two EPs, Hangover Riders (2010), What The Hell (2003) and a self-titled album (2015), along with all members focusing to perform with their other project Moottörin Jyrinä (a children's heavy metal band that plays cover songs from classic 1980s heavy metal songs with child-friendly Finnish language lyrics with an educational tone), the quartet returns in 2021 to continue the party as grumpy old men with strong 18-year-old angst.
Their new record "The Bloodening" is due out via Rockshots Records on April 30th, 2021.
Clearly having a blast, Bloody Hell want you to have a blast as well and to help make that a reality, they're dropping a 12-track album of good time heavy head-bangers. Classic heavy metal with thrash and speed sensibilities, The Bloodening is an album filled with energy, dirty groove and thumping heaviness.
From the screaming riffs, chunky hooks, heart-racing beats, and slower and sleazy 80's style groove, the guitars cause chaos. Constantly exciting, always interesting and undoubtedly heavy metal. The bass and drums add the weight, richer and darker, like blood coagulation. While the vocals alternate between fast paced gruff growls, higher pitched singing and epic grandiosity. All while still having uplifting and emotional sounding melodies here and there.
There are so many great tracks here that will put a smile on the face. Get the hairs on the neck standing up and stretch the neck muscles in anticipation for a good bout of head-banging. Tracks like The Undertaker, Smoking, Murders She Wrote and Bite are just a handful that absolutely crush.
57 minutes long?! It ends up feeling too short. This is the sound of a band high on confidence and completely capable of delivering exactly what they want. You're going to have to be a stone cold bastard to not find some enjoyment in The Bloodening.
Stick it on, turn it up loud and revel in the heavy metal goodness. Bloody Hell indeed.
Bloody Hell – The Bloodening Full Track Listing:
1. Hangover Rider
2. Face In Hell
3. The Undertaker
4. In The Night We Burn
5. Smoking
6. What The Hell
7. Burn Witch Burn
8. Murders She Wrote
9. Midnight Man
10. Long Road To Hell
11. Bite
12. Kiesma (The Museum of Modern Art)
Links
Facebook | Pre-order | Rockshots Records
Bloody Hell - The Bloodening (Rockshots Records)
The Final Score -

7.5/10