Album Review: Begrafven – Dödsriket (Unexploded Records)
7 years has past since the release of "Begrafven" demo, containing the tracks "Universums Grav" and "Frälsaren". Now, finally the debut album "Dödsriket" is ready to be unleashed upon the world.
It contains 11 tracks with a total running time of 69 minutes of pure Swedish black metal magic.
They've made fans wait but with an album filled with all manner of dark black goodness, Begrafven have made sure it was worth it. A mixture of classic savagery with a raw edge and melodic atmosphere.
There's a lot to unpack here, after all this isn't a short album, yet it does fly by in a blur of roaring heaviness and epic depth. It's the latter that makes the strongest impression on the first few tracks, Nyckeln till Dödsriket and Frostfödd. The latter in particular is very effective in how mood-altering it is.
The stink of blackened death is all over Slav whereas Universums Grav is an angry riff beast rising from the pits and Döden är Helig is lusciously evil sounding. The latter's vocals reaching truly demonic levels of scratchiness.
It's time for something truly momentous though with Då Jorden Fylls av Klagorop. A 9-minute black metal marathon that pushes the limits of what Begrafven are capable of. Showcasing many different faucets of their sound, the ringing riffs are maddening yet infinitely appealing in that glorious black metal way. A more rock-orientated finish puts the cherry on top of a hell of a track.
Although, it's not like Begrafven take their foot off the gas with what follows. Giftet, I Mitt Mörker and Frälsaren as humongous as anything that came before. If you're not already spent, you'll likely be after this triple hitter.
Almost there though.
A short and gothic keyboard melody (Korpens Tystnad) serves as something of an intro to the finale of Livets Fort. A lavish finale that compliments everything heard so far, while staying totally true to the grandiose black metal savagery that we've experienced throughout this hour plus listen.
It has been well worth the wait.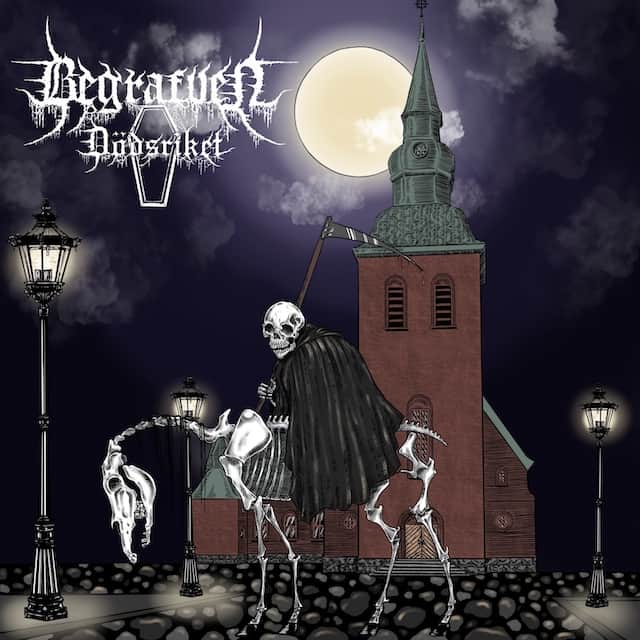 Begrafven – Dödsriket Full Track Listing:
1. Nyckeln till Dödsriket
2. Frostfödd
3. Slav
4. Universums Grav
5. Döden är Helig
6. Då Jorden Fylls av Klagorop
7. Giftet
8. I Mitt Mörker
9. Frälsaren
10. Korpens Tystnad
11. Livets Fort
Links
Begrafven - Dödsriket (Unexploded Records)
The Final Score -

9/10