Album Review: Babymetal – Metal Galaxy (earMUSIC)
Babymetal's forthcoming 3rd Album 'Metal Galaxy' will be released worldwide simultaneously on October 11th 2019. Three and a half years after the release of their previous album 'Metal Resistance', this new offering is based on the concept of "The Odyssey of METAL GALAXY".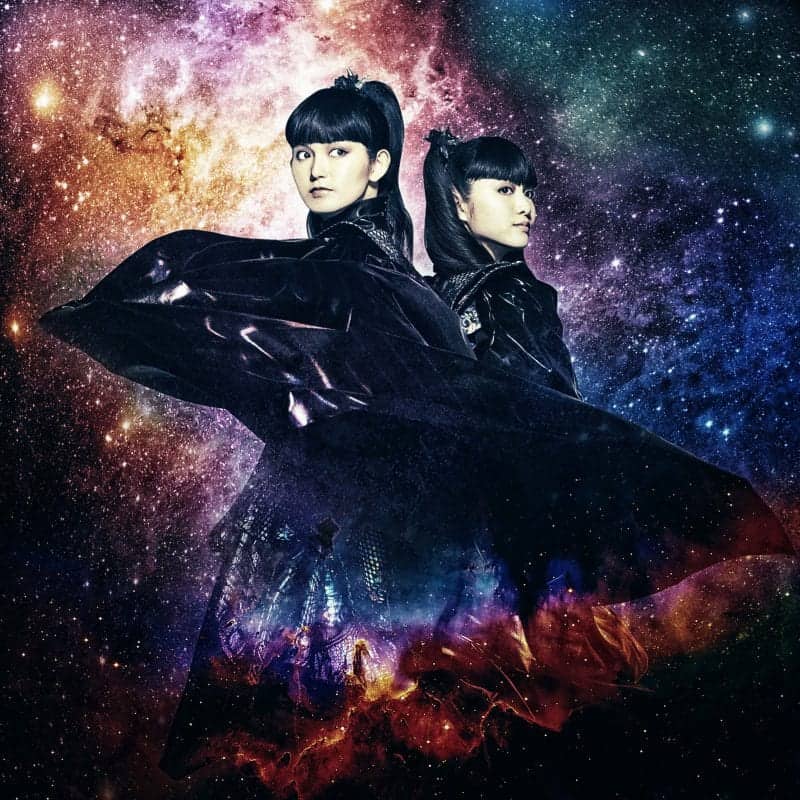 As their band name, Babymetal represents "the birth of a new genre of music that combines Japanese pop with metal", hence the term "baby" in the name, the new album expresses Light & Darkness, emotions like duality and ambivalence, and "new metal" created by various chemical reactions as other entities evolved and expanded in this album.
Just like the Sun and the Moon changes the appearance of this world with its daylight and moonlight, with evermore new type of various sound, their music paints the metal galaxy in different colours.
The album includes 5 songs that feature guest appearances from worldwide musicians who were perfect to the character of each song.
Guitarist Tak Matsumoto from B'z is featured on DA DA DANCE. Vocalist Joakim Brodén from Sabaton is featured on Oh! MAJINAI. Guitarist Tim Henson and Scott LePage from Polyphia are featured on Brand New Day. Vocalist, Alissa White-Gluzfrom Arch Enemy is featured on Distortion. Rapper, F.HERO is featured in PA PA YA!!
It's no secret that here at GBHBL, we're not aboard the Babymetal train. We've given them plenty of tries from album reviews to single reviews and more…no matter how hard we try, we simply don't like the music they create most of the time.
So, that may bring you to wonder why we are reviewing their hotly anticipated new album. I mean we've already established we don't like them so why bother?
Simple. We want our minds changed and the only way to do that is to try time and time again. It would give us nothing but pleasure to be able to say that we love Metal Galaxy, it really would.
Sadly, that's not the case but…and this is a big but…there's a hell of a lot more to enjoy here then we've previously had. Although it's hardly a strong start with FUTURE METAL, the effects heavy intro failing to land.
The Babymetal we know makes their proper entrance with DA DA DANCE and Elevator Girl, a pair of hyper and energetic romps that tick many of the right boxes for Babymetal fans.
We then get something a little different with Shanti Shanti Shanti. The Middle-Eastern style taking things in an unexpected direction. It's just a shame that it doesn't result in anything particularly exciting.
However, that is followed by one of the best tracks on the album, the super catchy Oh! MAJINAI which features additional vocals by Joakim Brodén. A fun and exciting number and one likely to turn the heads of even the biggest Babymetal naysayers. Unfortunately the same can't be said for the following Brand New Day and Night Night Burn. Both tracks proving to be bland and unexciting with over-reliance on effects.
The epic then comes in the form of IN THE NAME OF where it is well and truly about the metal before Arch Enemy front-woman Alissa White-Gluz pops in for a raging performance on Distortion.
As 14 track albums go, it certainly does fly by. Not always in a blur of quality but impactful none the less. The previously released PA PA YA!! is as irritating as it was the first time it was heard with the additional vocals of F.HERO failing to spark anything interesting.
It picks back up though for Kagerou and Starlight, both tracks showcasing the vocals of the members well, the latter in particular has live finale written all over it thanks to its uplifting melodies.
The penultimate track, Shine is a ballad and works in an acoustic guitar nicely before Arkadia shows Babymetal may have learned a bit from Dragonforce when they previously played together. A shred-fest, it's up there as an album highlight, hyper-fast, heavy and a very catchy. It caps off a satisfying album that will certainly please Babymetal fans and maybe gain the attention of some non-fans too.
If your hatred of them runs deep, you're not going to find much here though. This is a Babymetal album through and through and there is an argument that they throw everything they can at the wall here to see what sticks. However, while plenty hits the wall with a splat and slides down there are many moments where the end result is satisfyingly good.
Babymetal – Metal Galaxy Full Track Listing:
1. FUTURE METAL
2. DA DA DANCE (feat. Tak Matsumoto)
3. Elevator Girl – English ver. –
4. Shanti Shanti Shanti
5. Oh! MAJINAI (feat. Joakim Brodén)
6. Brand New Day (feat. Tim Henson and Scott LePage)
7. Night Night Burn!
8. IN THE NAME OF
9. Distortion (feat. Alissa White-Gluz)
10. PA PA YA!! (feat. F.HERO)
11. Kagerou
12. Starlight
13. Shine
14. Arkadia
Links
Pre-order | Physical CD Order UK | Physical CD Order US | Website | Live Show Tickets
Babymetal - Metal Galaxy (earMUSIC)
The Final Score -

6/10