Album Review – Aura Noire by Aura Noir (Indie Recordings)
Norwegian blackened thrash metal band, Aura Noir, have released a new album called Aura Noire. Aura Noire is their 6th full length since their formation in 1993 and was released on the 27th of April via Indie Recordings.
Aura Noire are a three piece. Originally formed by Aggressor (Carl-Michael Eide) and Apollyon (Ole Jørgen Moe) in 1993, they released a few demos and their debut EP called Dreams Like Deserts in 1995. Shortly after they recruited Mayhem guitarist, Blasphemer (Rune Eriksen) to complete the band. Disaster struck the band in 2005 when Aggressor was involved in an accident that left him in a wheelchair and the band went on hiatus. over the years that followed, Aggressor healed and while never able to play drums again, re-joined the band as a vocalist, guitarist and bassist and performs with the band full time sitting on a stool on stage. There is some dedication for you.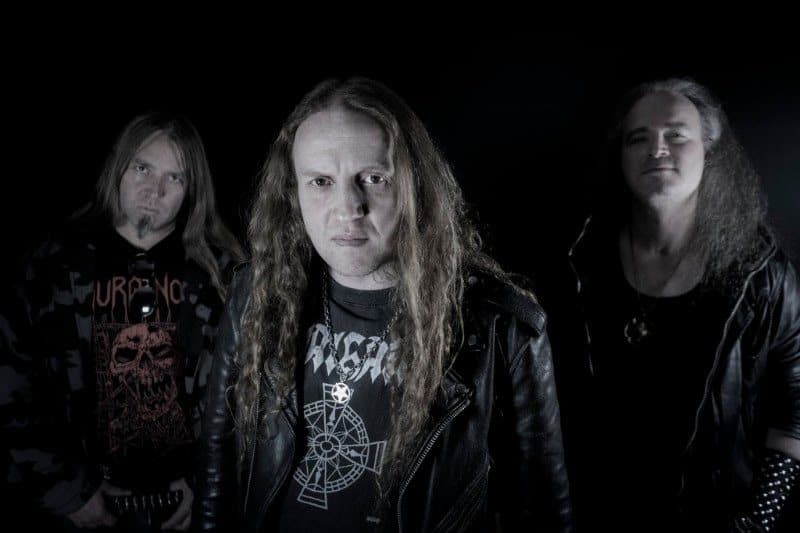 Aura Noir claim to have come about because of frustration at trends and fads plaguing black metal back in the 90s. They wanted to create something new and true to metal (in their words). Inspired by bands like Celtic Frost, Venom, Sodom and Dark Angel, black thrash metal was born.
Aura Noir aren't a band I know an awful lot about, to be honest. I was surprised to see how long they have been around at first so I am pretty excited about trying them out. The album, Aura Noire is reasonably short with 9 tracks weighing in at 33 minutes in total. Aura Noir are known for loose, thrashy metal dripping in groove and rawness that makes a blue steak seem seriously over cooked. You definitely get all of that on the album Aura Noire. Raspy shouted vocals, not quite black metal but not quite thrash sit alongside manic riffs that switch between chugging groove and traditional speed picking while the drums are furious blast beats and ridiculously loud cymbal crashes.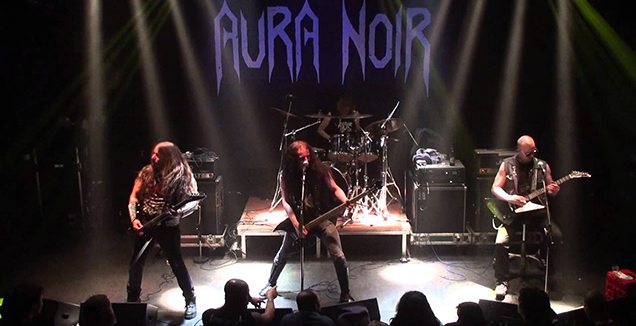 Opener Dark Lung of the Storm is exactly Aura Noir, almost painfully raw, the music worms it's way into your brain and threatens your senses. Grave Dweller has the same effect. The vocals sitting over what is basically a wall of unrelenting metal with furious drumming, constant crashing cymbals and pounding riffs. One thing that does break up the noise is the slightly different styles evident on tracks. I wasn't really aware at first but after a few listens you notice that the drumming style has switched up and the vocals are different.
A bit of research shows that the band members actually switch position on some tracks with Aggressor moving to drums to allow Apollyon onto guitars and vocals and vice versa. This is interesting and important because if it wasn't for these switch ups, the album would become very muddy and samey. A few tracks try to switch things up as well. Hells Lost Chambers has a bit of a mid tempo rhythm to it and seems to lean a little further towards black metal with a darker edge. The Obscuration goes for all out, balls to the wall, speed and is enjoyable for a time.
After this though things start to take a turn for the worst. Not that anything bad happens or the heaviness or genre mixing intelligence disappears, it is just that after the first few tracks, nothing new happens. Songs start to sound a little repetitive. A little less inspired. Demoniac Flow sounds like The Obscuration,  Shades Ablaze has a little Grave Dweller – that sort of thing. The music is still forceful and unrelenting but the second half of the album is crying out for a track that switches it up a little, in the way that Hells Lost Chambers breaks the first half of the record.
Still, Aura Noire is very Aura Noir from what I gather so long term fans should be really happy. I like it a lot but the crushing wall of noise can be a bit much over the whole album. The raw production is empowering at first and muddy by the end. There isn't really a bad song on the album and there are a couple absolute crackers. There are a few I can take or leave though. Aura Noire won't be everyone's cup of tea but you have to admire the genre melding skills on show and the pure, raw aggression. Even if I will have to try to avoid hearing a cymbal crash for a few days now.
Aura Noire is available on the usual streaming services now. You can also grab a copy at Indie Recordings, Bandcamp page here or from the links below. You can find out a bit more on the band at their Facebook page here. Be sure to give them a like or follow while you are there.
[amazon_link asins='B079ZT46CH,B005K8UL4C,B006Z10B1Q,B006LD467I,B00166QJWK,B009F91YD4,B0042U3ST4,B01KB1195W,B01G47JEHW' template='UseThisOne' store='g0e5b-21′ marketplace='UK' link_id='8e580b0b-4eb2-11e8-90ec-2da31d0516d0′]
Aura Noire by Aura Noir (Indie Recordings)
The Final Score -

7/10