Album Review: Antlers – Beneath.Below.Behold (Totenmusik/Ván Records)
Leipzig based melodic black metal band, Antlers will release 'Beneath. Below. Behold', their second album on March 23rd 2018 via Ván Records and Totenmusik.
A mournful style of black metal, Antlers are all about providing darkness as well as beauty. Opening with what can only be described as a black metal epic. Theom is 11 minutes of low & murky bleakness that rises above many others in genre with flashes of melody built around vocals that are oppressive, sending a cold shiver up the spine.
It never actually changes in tempo but still manages to create an atmosphere. The heaviness & blackened vibe continues into Heal, a track that somehow manages to be both uplifting & depressing at the same time.
It's after this opening duo of gloominess that Antlers offers some respite with the sorrowful strumming & use of violins in Nengures.
This seems to breathe new life into Antlers with Beyond the Golden Light delivering an album highlight with its smothering sober tone. With renewed confidence Metempsychosis takes the black metal sound up a notch but adds more exciting rhythm and memorable group vocal chants.
Again, a breather is given with Drowned in a Well before Off With Their Tongues & The Tide offer different takes on Antlers' sound. The former a brief intense assault while the latter is a bit more of what we're used too with this album. Lacking the same punch as found elsewhere though, its lengthy run-time feels too long as the track runs out of steam fairly early on.
It's a flat ending, especially as Lug's Water is just an outro & nothing special either. That being said, 7 other excellent & intriguing tracks certainly make up for it!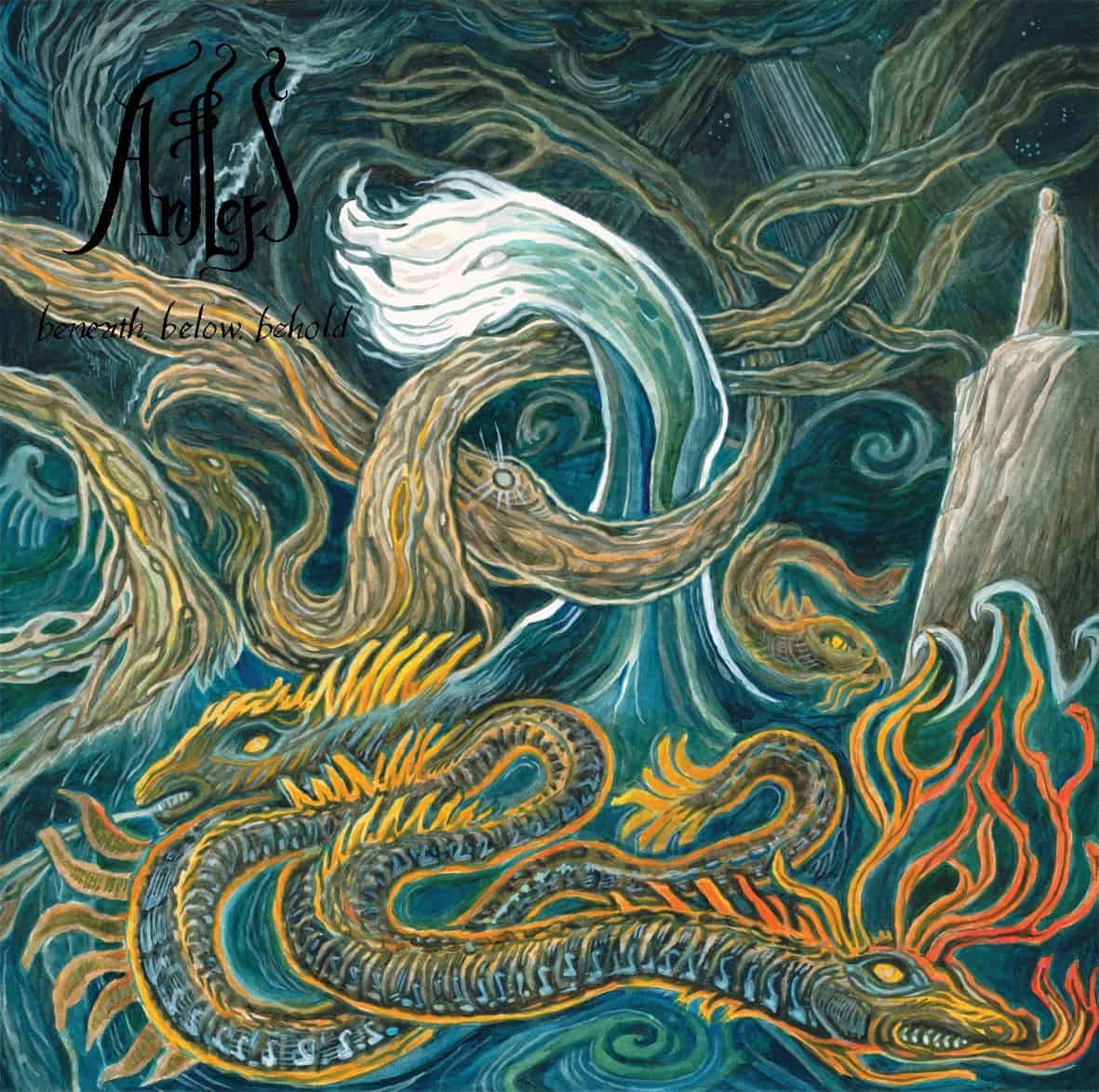 Antlers – Beneath.Below.Behold Full Track Listing:
 1. Theom
 2. Heal
 3. Nengures
 4. Beyond The Golden Light
 5. Metempsychosis
 6. Drowned In A Well
 7. Off With Their Tongues
 8. The Tide
 9. Lug's Waters
You can pick up Antler's music over on Bandcamp, via Totenmusik and Ván Records. Find out more/keep up to date via Facebook.
Antlers - Beneath.Below.Behold (Totenmusik/Ván Records)
The Final Score -

7.5/10