Album Review: Agnostic Front – Get Loud! (Nuclear Blast)
Legendary NYHC pioneers Agnostic Front are back to the scene with their twelfth studio album, Get Loud! which will be released on November 8th 2019 via Nuclear Blast.
Roger Miret comments:
So excited for everyone to hear our new record 'Get Loud!' I really love the songs and it feels like a great mixture of what we have done our whole career! We put 100% into this from top to bottom! Everyone involved from start to finished just killed it! See you in the pit to celebrate these songs soon!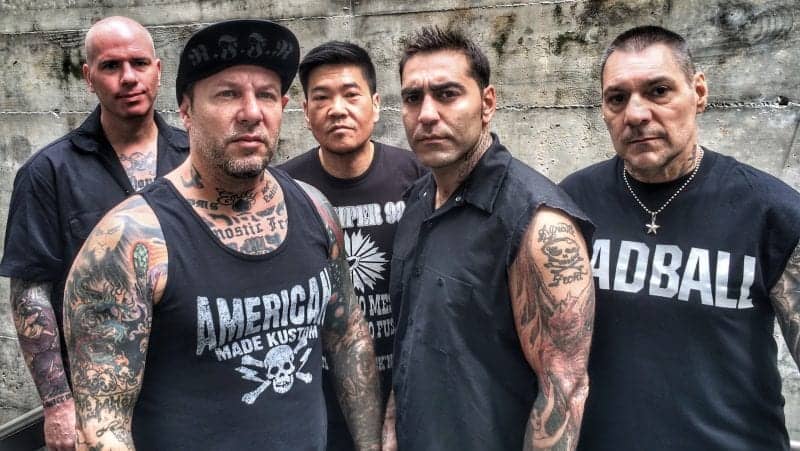 The godfathers of hardcore are back. It's time to get wild and sweaty. It's time to Get Loud!
Having never really had an ear for hardcore, over the years I've gained a real appreciation for the music. Enough so that bands that passed me by are finally getting a listen and I'm discovering many great acts, often for the first time.
The joy of finding Agnostic Front and learning more about them through their documentary movie, The Godfathers of Hardcore can't be put into words. With such a huge back catalogue to explore, I imagine it's what a kid would feel when he finds a sack full of sweets under his bed.
So I'm finally on the Agnostic Front train and get to share in the excitement of the release of their brand new album, Get Loud!
14 tracks of in your face music that shows the band aren't mellowing one bit as they age gracefully. The energy and fire still burns so very brightly giving us punchy numbers at the start like Anti Social (don't all punk hardcore bands need or have a track called this?).
There's some personal moments here too. I Remember sees vocalist Roger Miret reflecting on the past and directly addressing guitarist Vinnie Stigma. Urban Decay has them issuing a ringing call to arms for the streets. Snitches Get Stitches is fairly explanatory and explosive while In My Blood exemplifies just how and why Agnostic Front are still going strong with a diehard fanbase right behind them all the way.
If you're looking for something different from Agnostic Front, you're not going to get it from Get Loud! It's a celebration of their years and a statement of intent that they're still about during a time when hardcore has fragmented into so many sub-genres.
This is how it's done, the old school way.
Agnostic Front – Get Loud! Full Track Listing:
1. Spray Painted Walls
2. Anti Social
3. Get Loud!
4. Conquer And Divide
5. I Remember
6. Dead Silence
7. AF Stomp
8. Urban Decay
9. Snitches Get Stitches
10. Isolated
11. In My Blood
12. Attention
13. Pull The Trigger
14. Devastated
Links
Agnostic Front - Get Loud! (Nuclear Blast)
The Final Score -

7/10